THOMAS HURT
This person was the Father of Hilda Jackson, grandfather of Tony Jackson and Great Grandfather of Dean, Hayley and Lisa Jackson.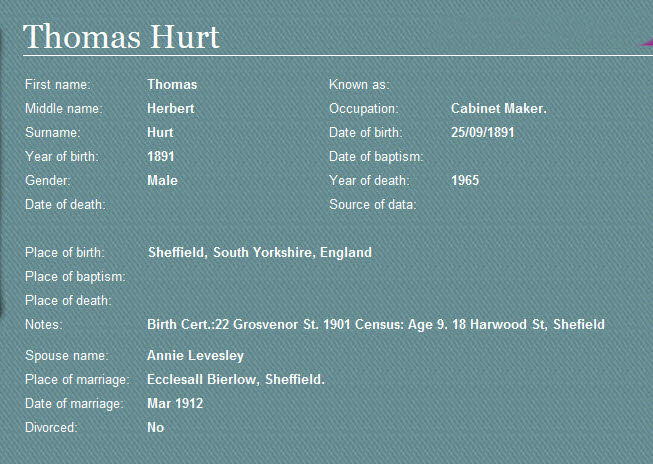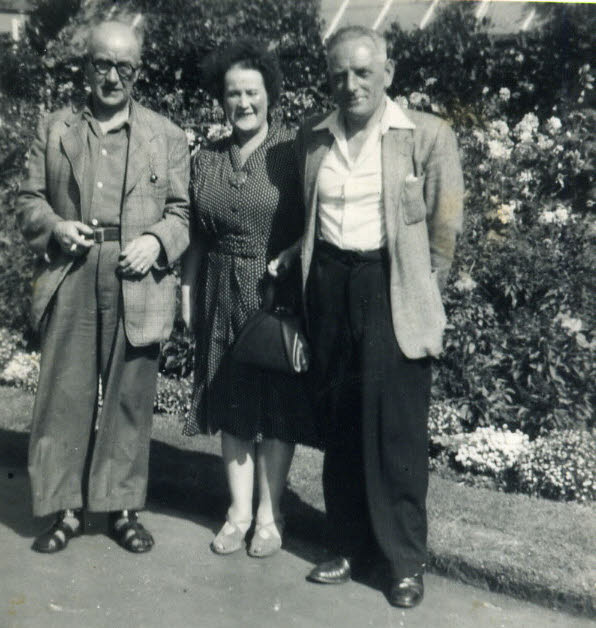 I do know that he served in the First World War and was sent abroad to fight in France. The next photo of him is nearly 100 years old: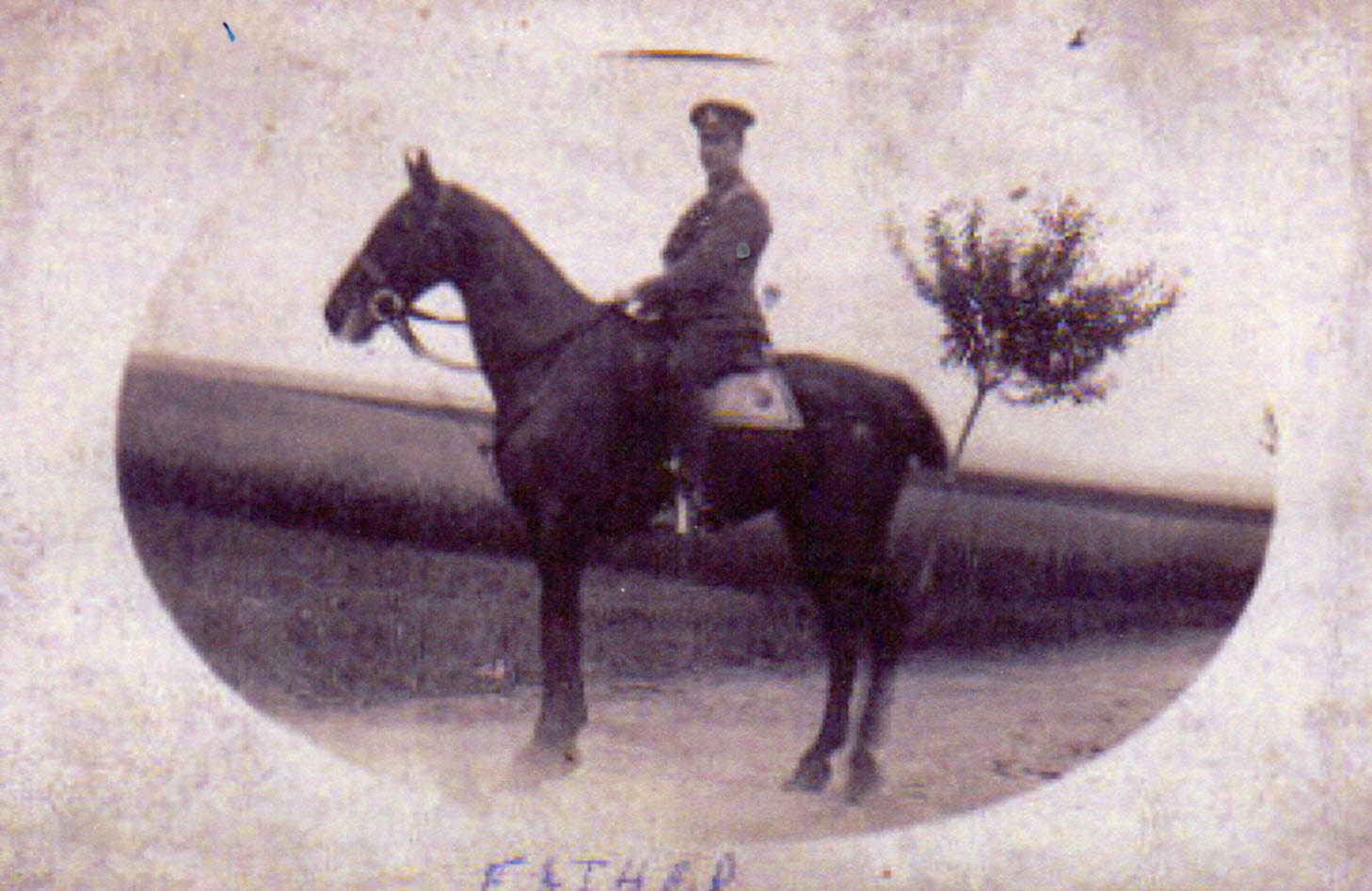 I can remember as a young boy sitting with him and listening to him relate his war memories.
The fighting conditions were terrible - in the trenches they were up to their knees in mud sheltering from the German shells that were being fired at them. Transportation in those days was mainly horses and he said that after a heavy shelling they would immerge from the trenches and recover lumps of the horses from trees.
At the end of the war he stayed on in Germany and assisted with medical work. He had some medical skill and helped surgeons. He once told me that whilst he was abroad he had terrible toothache. Believing that he was a hard case where pain was concerned he asked a fellow soldier to pull the tooth out with a pair of pliers. There was no anaesthetic and he said the fellow nearly pulled his head off!
He married Annie Elizabeth Levesley and they initially lived in Sunderland St. just off Summerfield St.
They had 3 children:
Click on the above buttons for more information.
In the early 1930's they moved to Pomona St. He was a skilled cabinet maker and I used to admire his set of woodworking tools and the articles he produced with them. Later he changed trades and became a Shoe--Repairer. ( he used to hate the job title, COBBLER).
I don't know the two people on the left of the next photo but seeing him eat brings back more memories: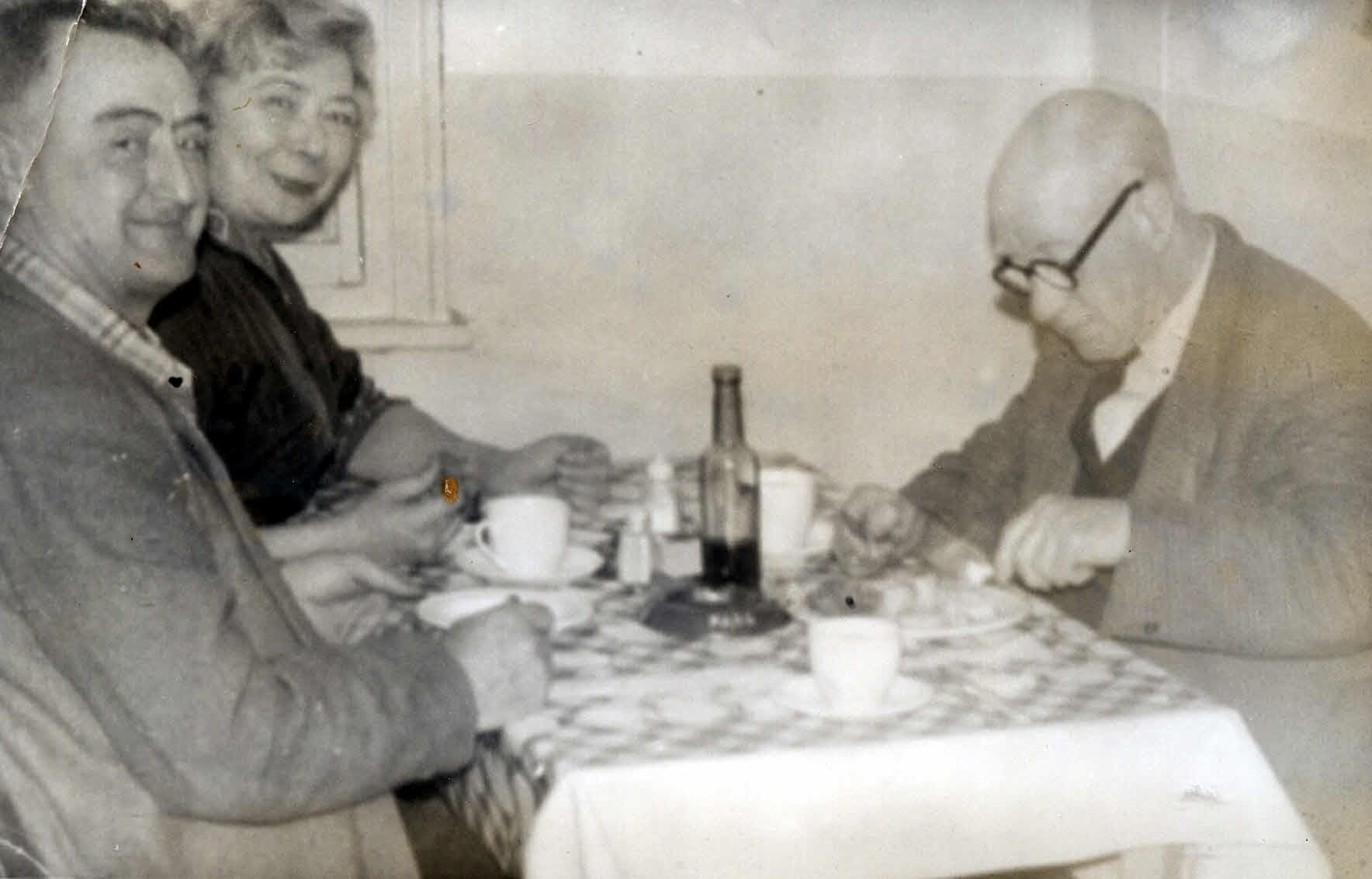 When I went round to their house at No. 16 Pomona St. he would always have a pint pot of tea in front of him.
Also, he was so meticulous in everything he did. Each slice of bread would be cut with precision so that its thickness was exactly the same all round. Then he would butter it so that the butter was equally spread with no unbuttered bread showing.
He would often lecture me with the saying "A place for everything and everything in its place". Something that should be heeded if you don't want to spend a lot of time looking for your possessions.
Sometimes he would go on holiday with us: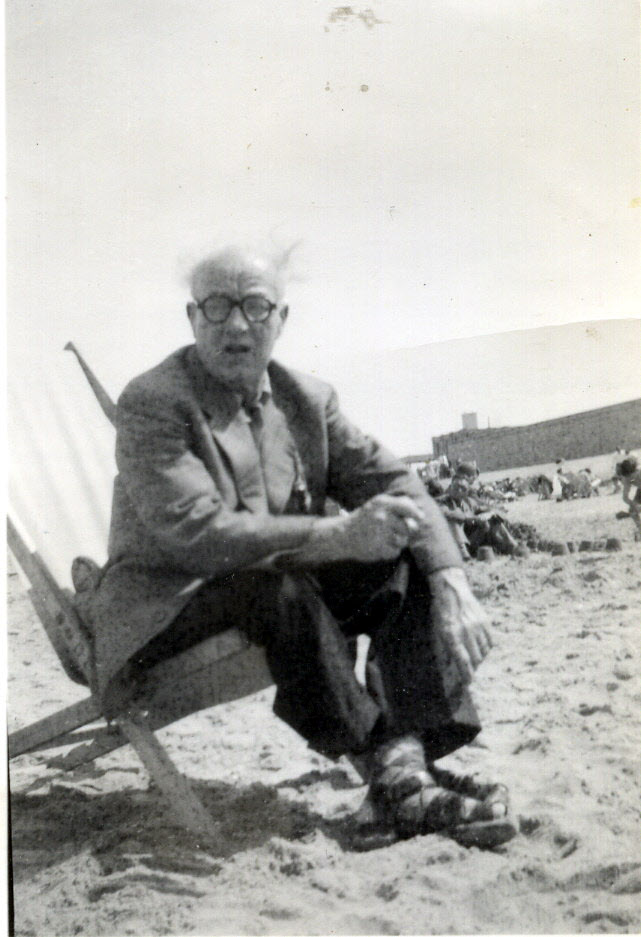 Granddad was a smoker, his favourite brand was Woodbines. Now the second photo, has after 65 years, presented me with a problem because I always thought the child was me. After Dean saw it he asked if I was always wearing girls' swimming costumes in those days? Well it was only after zooming in on the picture have I realised that it's not me. Who it is I've no idea but I must say how relieved I am. I didn't possess a girl's swimming hat either!
I will never forget some of his other sayings he would throw at me, for instance:
" What shall it profit a man if he gain the whole world and lose his own soul?" St Mark Chapter 9.36
Or try this one - "If a man can build a better mousetrap than his neighbour the world will beat a path to his door". (Ralph Emerson, American lecturer).
And the last one which I think he made up himself. If my grandfather disliked a person he would say -
" He wants lashing around the neck with a stockingful of hot sh**!"
Another of his inherent characteristics was that he was a strict disciplinarian. He once caught his son Jack Hurt smoking when he was underage. To find out what happened you will have to read Jack's page when I get round to writing it.
His wife, Annie, my grandmother suffered serious chest problems in her later life. Granddad was a dedicated nurse to her attending to her every need. She was too ill to climb the stairs to bed so he brought their bed downstairs and put it in the front room. He loved her so much he had no problem sleeping in the same bed as her the night she died.
Now that he lived alone my mother was always there to help him. Not that he needed much help.
Not till later, when I was married and Jacqueline was pregnant with our first child. A sudden illness was diagnosed as him having cancer of the colon. He was very much looking forward to the birth of what would be his first Great Grandchild.
He had his operation at the Sheffield Royal Hospital and Jackie and I went to see him just before Christmas. I can still see a procession of nurses passing his bed, each holding a candle and singing "Hark the Herald Angels Sing". Sadly he never returned home, he died there. Never to see his Great Grandson, Dean.
These photos and memories are all I have left of him except for just one more thing.
One of his possessions that I greatly admired was a 1902 Edward VII Silver Crown. ( at that time a crown was worth 5 shillings and there were 4 of these in a £). I used to say to him when I was a teenager - "When you die can I have it so that I can pass it on, down future generations of the family?"
On his death my wish was granted and it is now part of my coin-collection. I would like this coin, as I promised him, along with the rest of my collection, passed on to a younger member of the family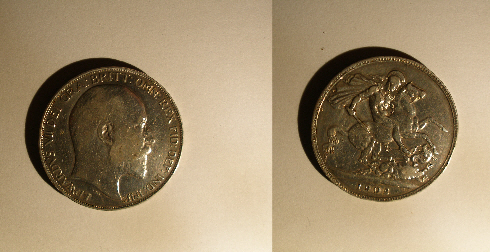 I recently (Nov 2010) saw this advertisement for crowns. Notice which one is the most expensive: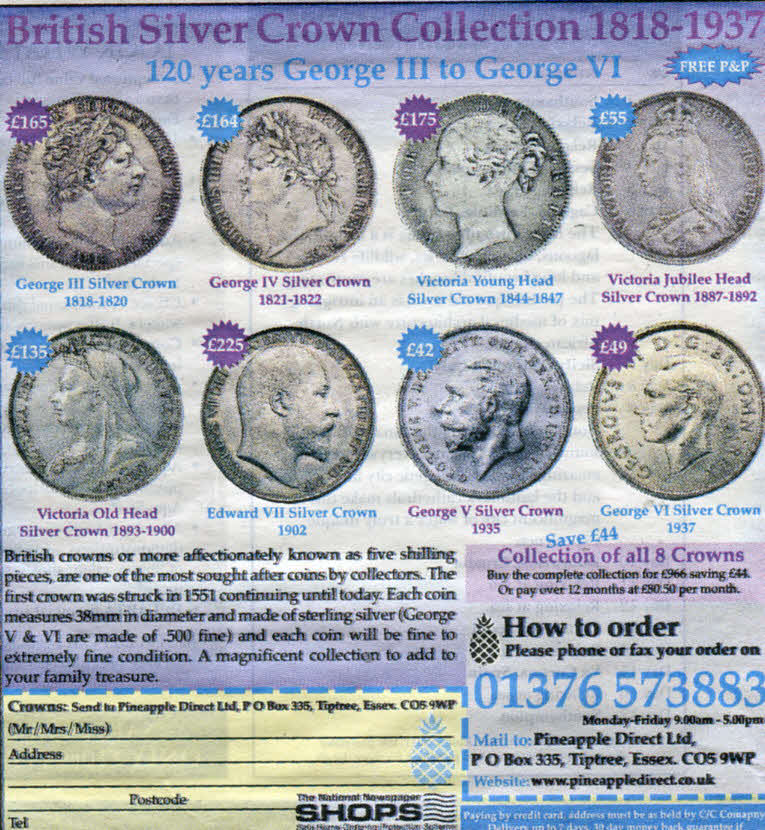 I'll finish my account of him with one last photo: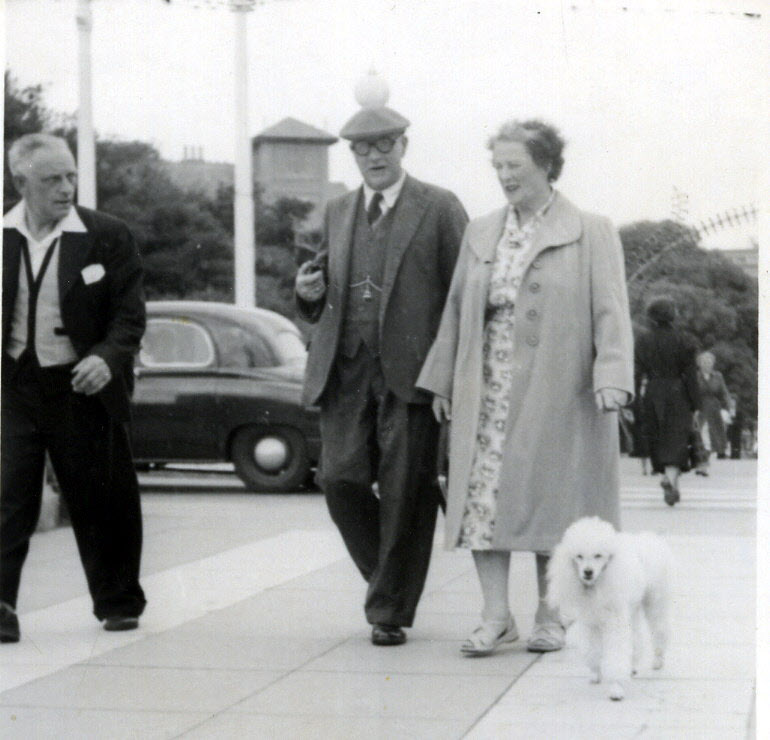 On holiday with my Mum and Dad, I would guess the place is Scarborough.
And one last memory - I would watch him, fascinated, when he shaved. He had an old-fashioned mug, a soap stick and a brush to lather his face.

Then he would take out his cut-throat razor, sharpen it on a leather strap and then proceed to use the deadly instrument on his face.