THE FABULOUS LAS VEGAS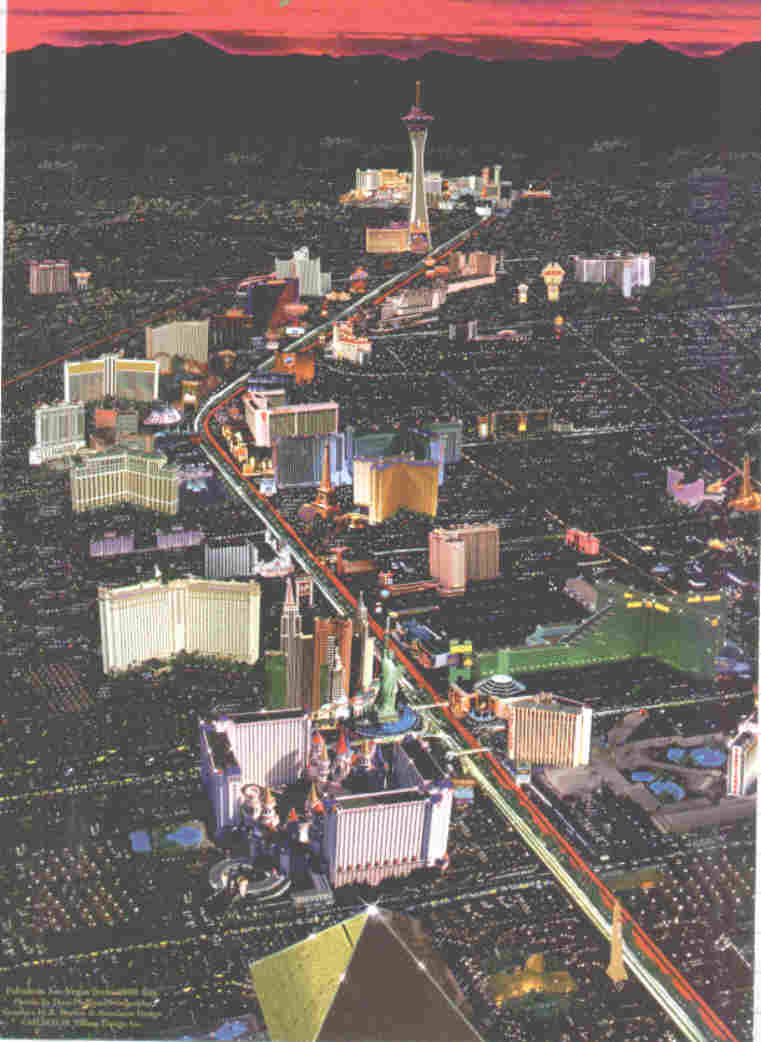 THE STRIP
Most people believe that to enjoy a holiday in Las Vegas you much first be a keen gambler. Nothing could be further from the truth! As far as we are concerned the main source of pleasure is still the hotels but without the gambling.
We had previously spent two days in Las Vegas back in 1994 and had always promised ourselves that we would return there and stay at least for a week.
The least expensive way of choosing your holiday is to seek out the offers on the TV's Teletext and select either:-
i) Flight Only or ii) Flight plus accommodation.
If you are going to find your own accommodation on arrival then be warned! Although you can find first class rooms for between £30 - £40 per night for up to four people, the cost can triple on Friday and Saturday nights.
Either way you will need a car if you do not want to be totally dependent on taxis. We have found that the Car hire company "HIRE for LOWER" is the cheapest and cars may be pre-booked on Tele 020 7491 1111
If, like us, you are not interested in gambling then it is likely your holiday will centre around :-
i) The hotel shows ( many of them are free).
ii) The hotel swimming pool and the fantastic weather.
iii) The incredible inexpensive food.
During your holiday you should endeavour to visit as many of the hotels as possible. Do not miss:-
TREASURE ISLAND where you can watch two full-sized galleons battle to the death.
CAESAR'S PALACE which takes you back to ancient Rome.
THE VENETIAN where I guarantee you will believe you are actually in Venice.
THE BELLAGIO and see the incredible dancing fountains.
If you have time, watch the volcano erupt outside the MIRAGE HOTEL and take a trip up the EIFFEL TOWER at the PARIS HOTEL.
Keep one evening free to visit FREEMONT STREET where you can see a roof-light show which I can only describe as the Eighth Wonder of the World.
As mentioned on our Web page "USA Vacations" titled "HAWAII" we met an American couple who became our good friends. This couple, Art and Marian, live the relatively short distance ( by American standards) of 300 miles from Vegas. Prior to this holiday we had arranged to drive down and visit them for the weekend.
They live in a place called "Sun city" in Palm Desert that can be best described as a superior Time Share complex but where you own your home exclusively. The life-style in Sun City borders on Utopia having just about every facility you can wish for. They have numerous sporting and pastime facilities all contained in a secure area which is scrupulously clean.
The welcome and hospitality we received was above and beyond anything we could have imagined although not uncommon, because by nature, the American people are very generous.
The photos below show shots of:-
PABLO'S RESTAURANT SUN CITY GOLF ART & MARIAN'S HOUSE