1999 CARIBBEAN CRUISE. THE DISASTER CRUISE!
This cruise began in November/ December 1999 with an Airtours flight to Tenerife.
Whist we were checking in at Manchester we were told that our ship the Airtours "CAROUSEL" had undergone major refurbishment in Gibraltar.
A delay had occurred and we would be boarding a day late. We would be provided with a hotel in Tenerife and each passenger would receive £100 compensation.
At 10.30 the next morning we spotted the ship approaching the port: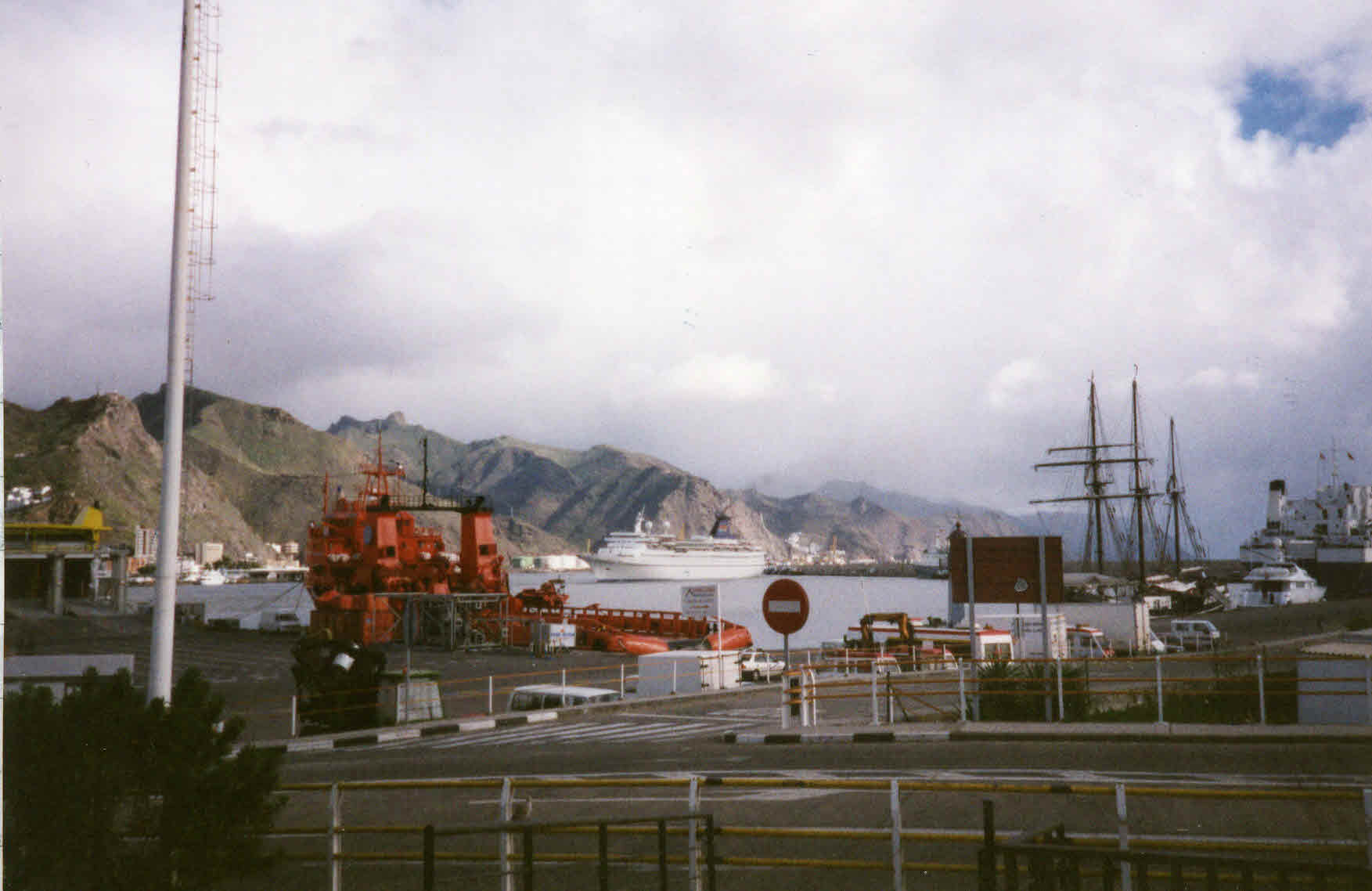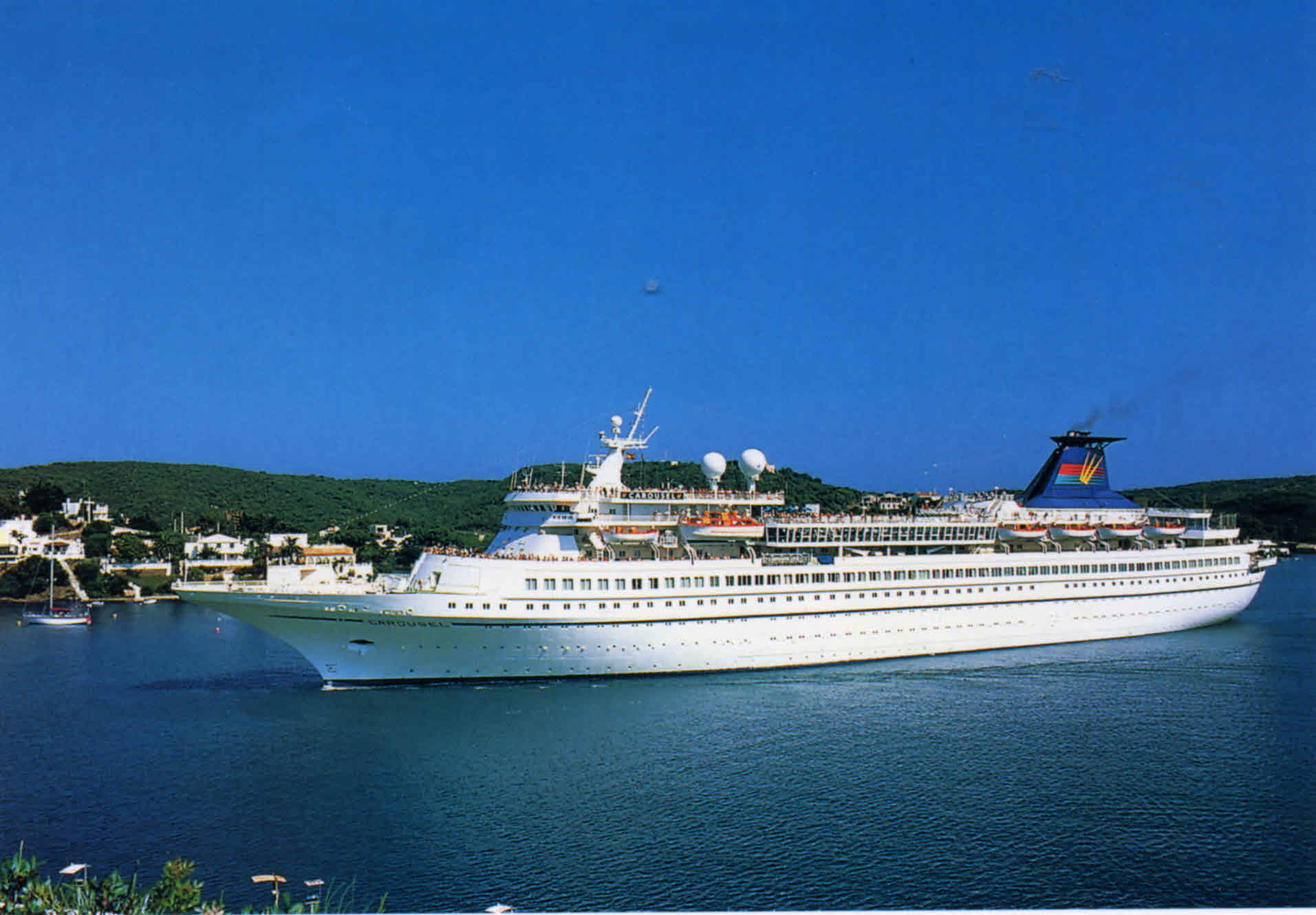 Airtours CAROUSEL.
We were taken to our cabin and pleasantly surprised to find we had been upgraded to an outside cabin: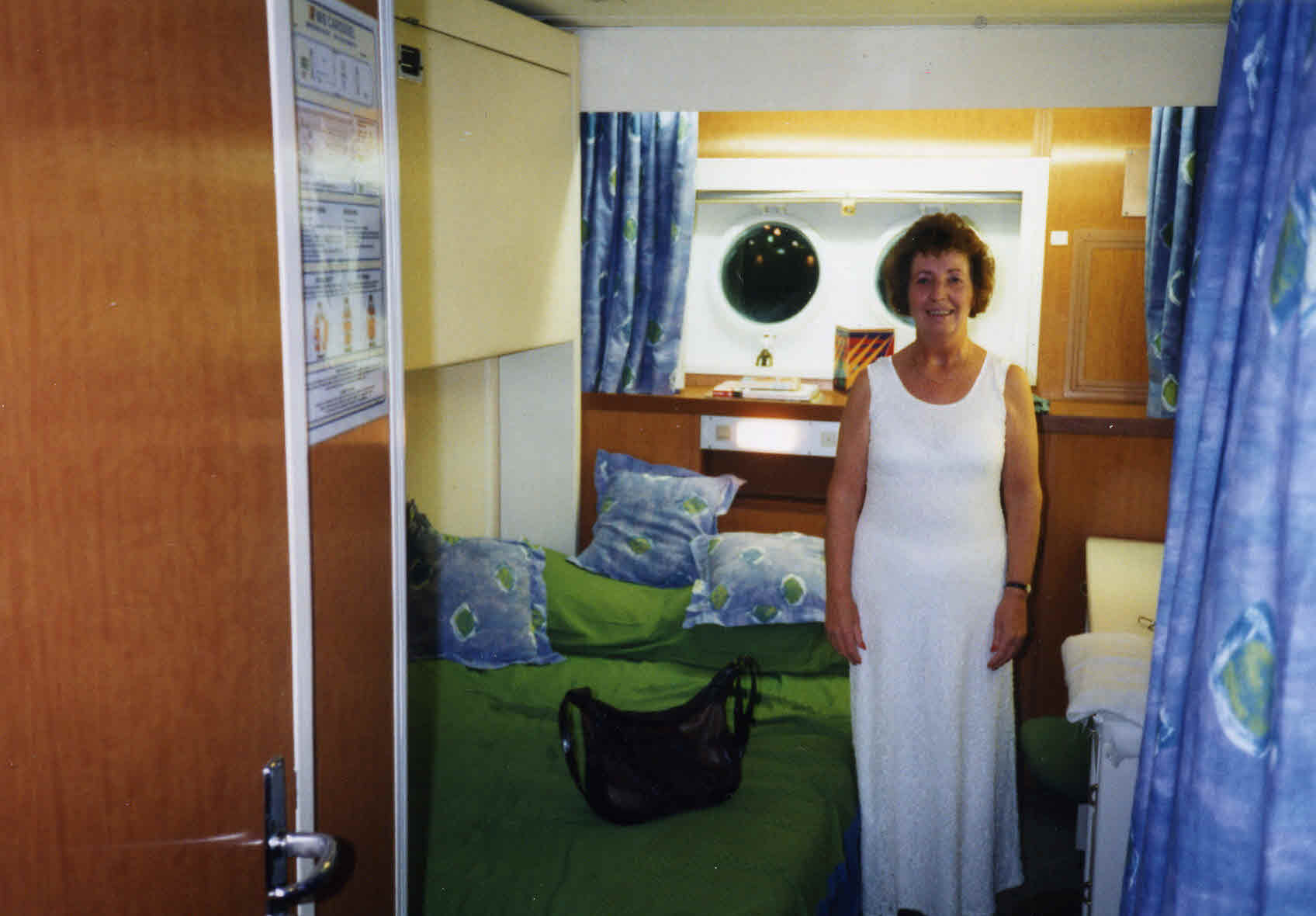 It was past midnight before we sailed and we were over a day late to cover the cruise itinerary which was:
Tenerife - a 6 day sail across the Atlantic to Antigua- Montego Bay - St. Maartin - Santo Domingo - and Caliga before flying back to the UK.
We had a good table placement for our evening meals: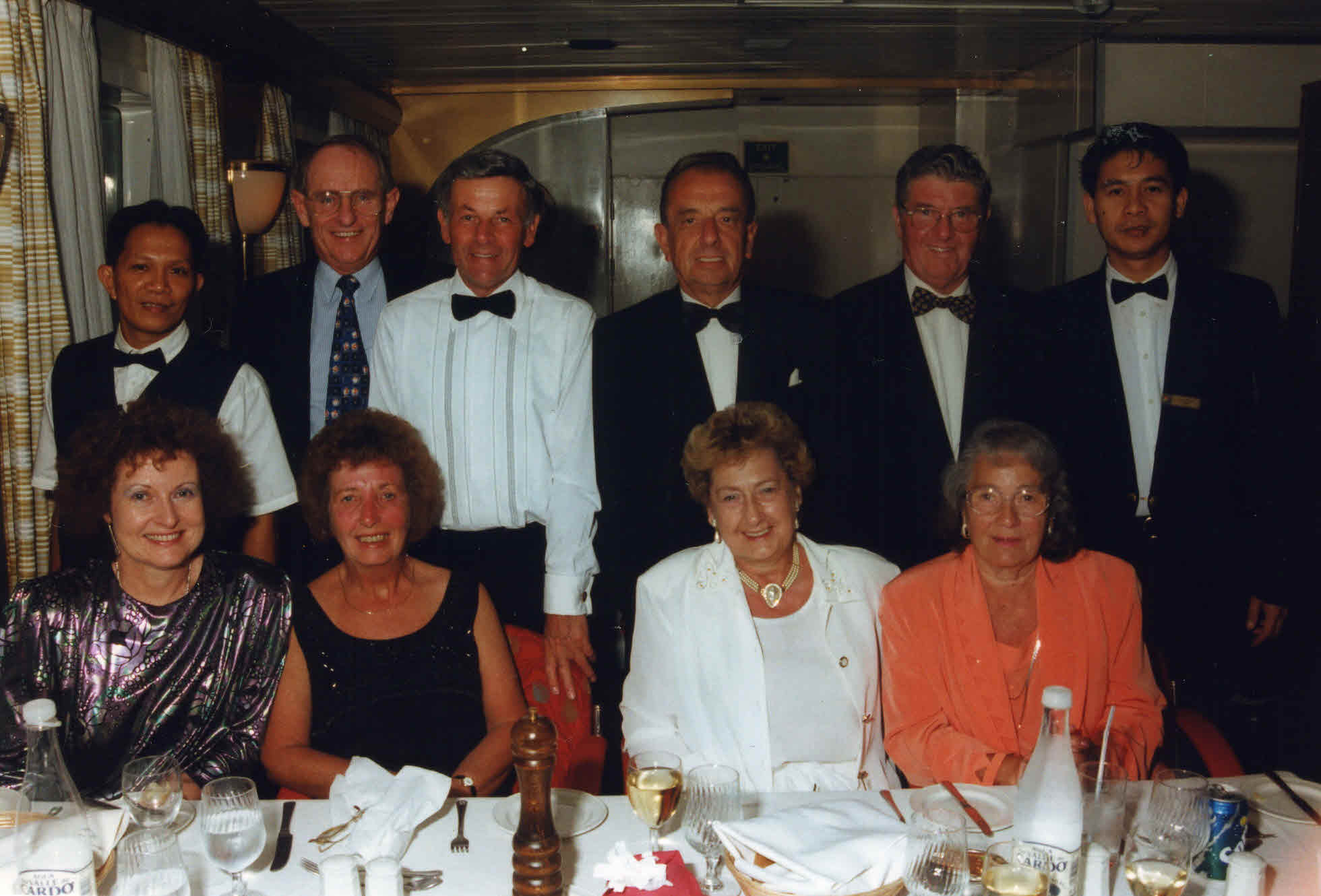 For the next few days we enjoyed the ship's activities and the excellent food: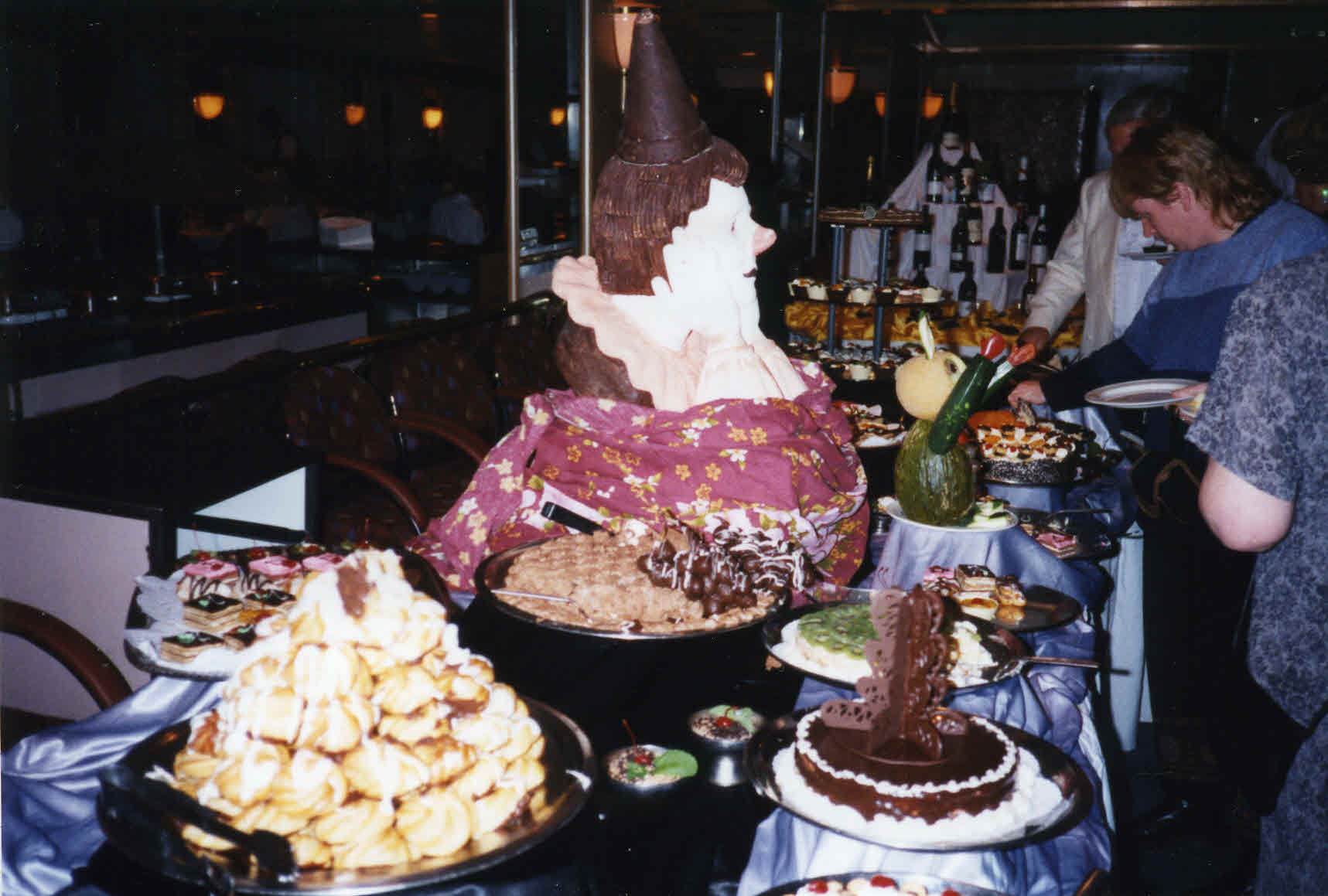 This day's Midnight Buffet was called " Chocoholics"
On day six of the cruise I remarked to Jacqueline that the ship's speed seemed to be slower than I expected. A little later whilst we were having breakfast the Captain came on the Public Address System. These were his words_
Some of you may have noticed that the ship has turned round and is heading back to Tenerife. The ship's desalination plant was not producing sufficient fresh water to get us across the Atlantic. Also there was a major problem with one of the ship's engine's drive shafts which prevented us from attaining a necessary speed.
There was a deathly hush among the passengers as the news sank in.
The Captain went on to say that the following compensation measures would take place:
1. There would be a full refund for everyone for the entire cost of the cruise.
2. In addition to the £100 we had already received everyone would receive a £200 voucher towards a subsequent holiday.
3. Everyone's bar-bill would be wiped clean and there would be an "unlimited free-bar" for the remainder of the cruise.
Not surprisingly this cushioned the bitter disappointment for most people and the situation was accepted calmly.
The Captain's voice reappeared and asked passengers to cease passing round rumours. He refuted that the ship had a hole in it and was sinking. This rumour started when a passenger had seen water being pumped overboard and thought we were baling out sea water.
For the remainder of the cruise back to Tenerife we had fabulous entertainment, food and service from the crew.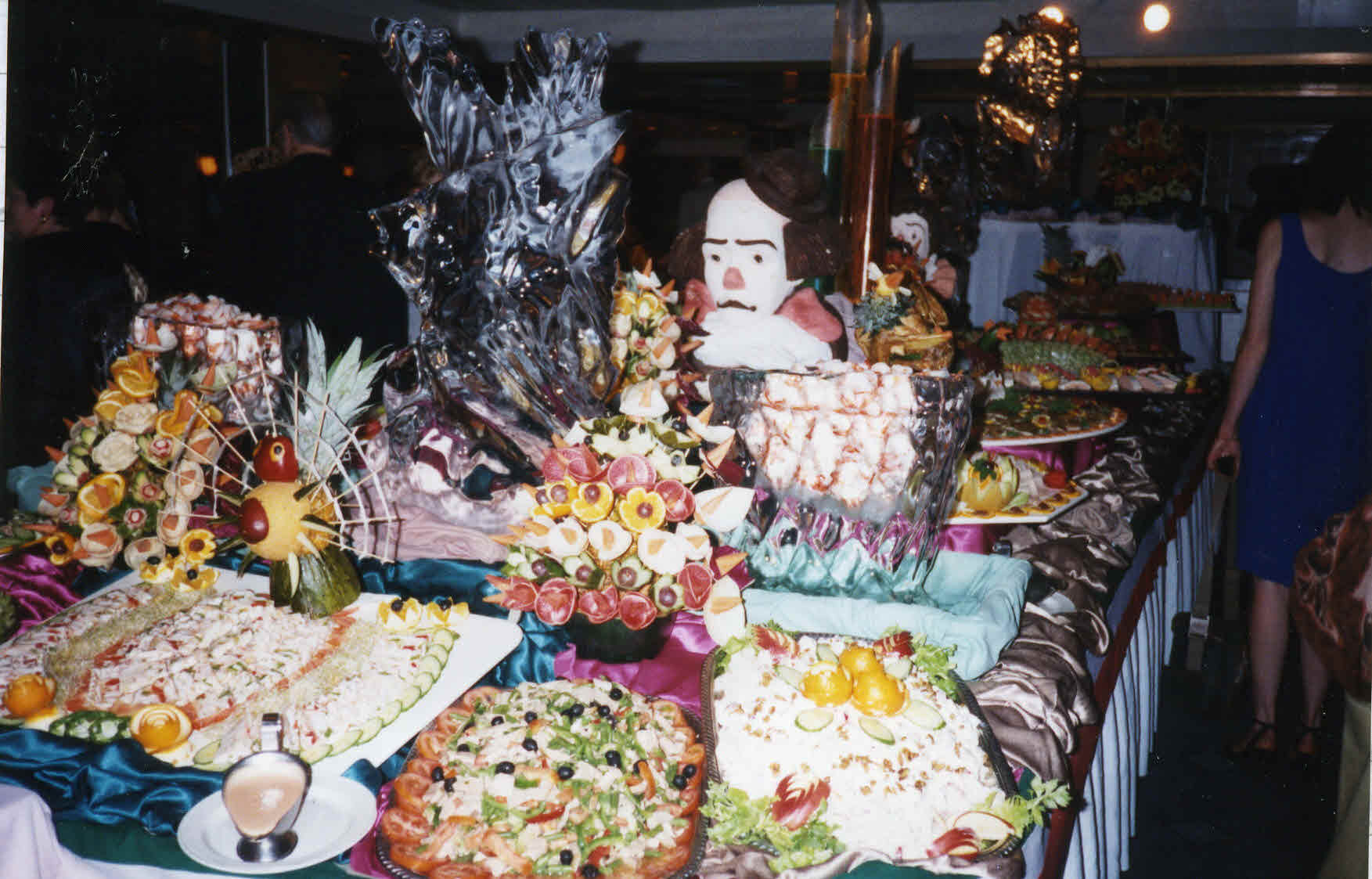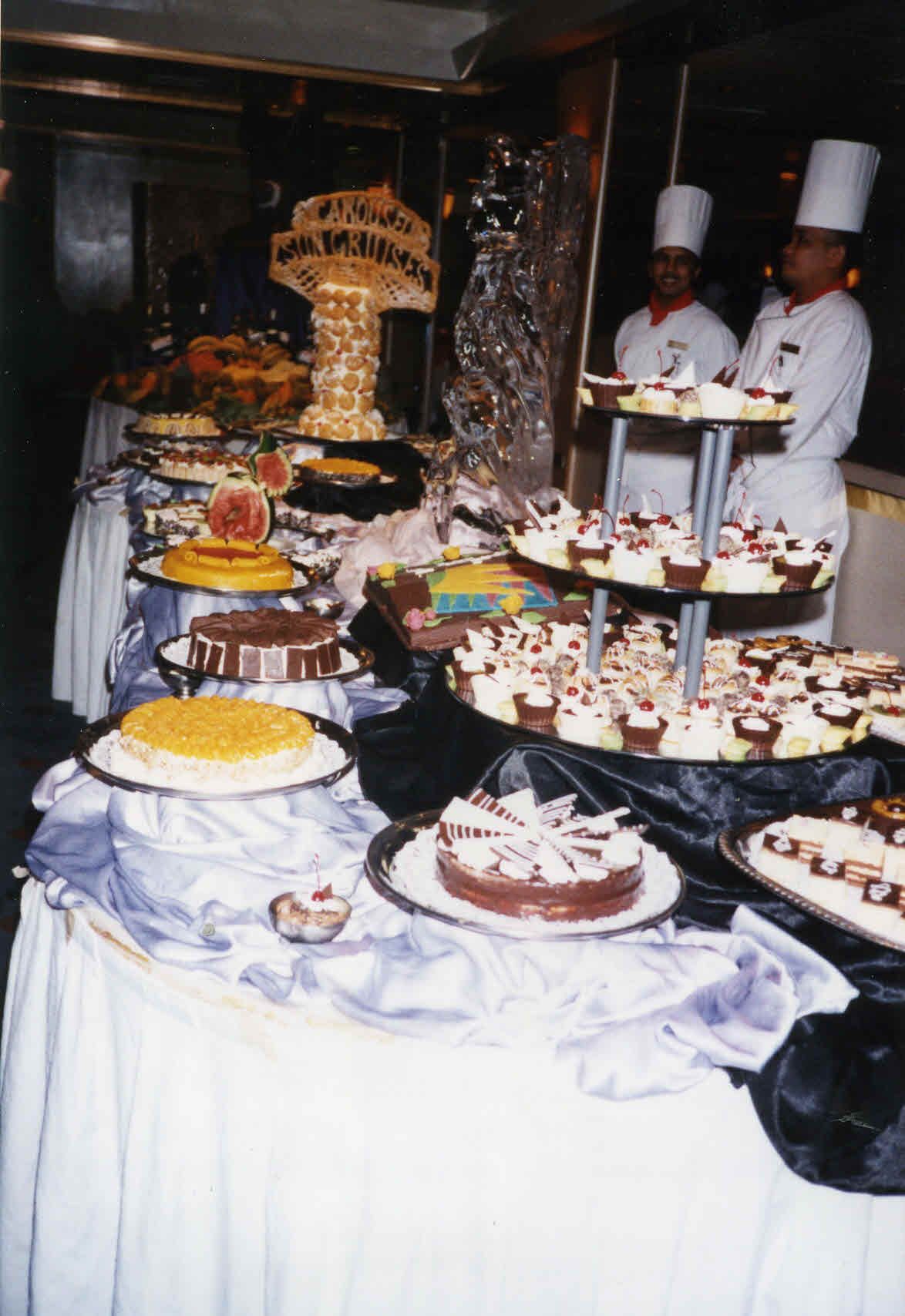 Hospitality continued right back to the UK. Another cruise was offered commencing 29th November for £549 minus the £200 voucher.
This was for a 14 day Caribbean cruise visiting 9 islands. There was also a free bar on the plane home from Tenerife.
Whilst we were waiting to board our plane home we were interviewed by a reporter from the Daily Express. He had come expecting to find hundreds of irate passengers all wanting the lynch Airtours Holidays.
He couldn't understand why he found so many contented faces.
I'll tell you why - We had just experienced a free 8 day cruise, had excellent food, first class entertainment, incredible service, met many interesting people and had good weather. All this and we returned home with £600 more than we went with. We even received back the Manchester airport parking charge. We had enjoyed the cruise so much I wrote Airtours the following letter ;