LAWRENCE JACKSON
This is the father of Tony Jackson and wife of Hilda Jackson.
I have written this account of his life after my son Dean asked for information about him. I hope I have fulfilled his request.
My father was born on 8th August 1908 at 18 Denby Street, Sheffield. No photos exist of him before he met my mother, Hilda: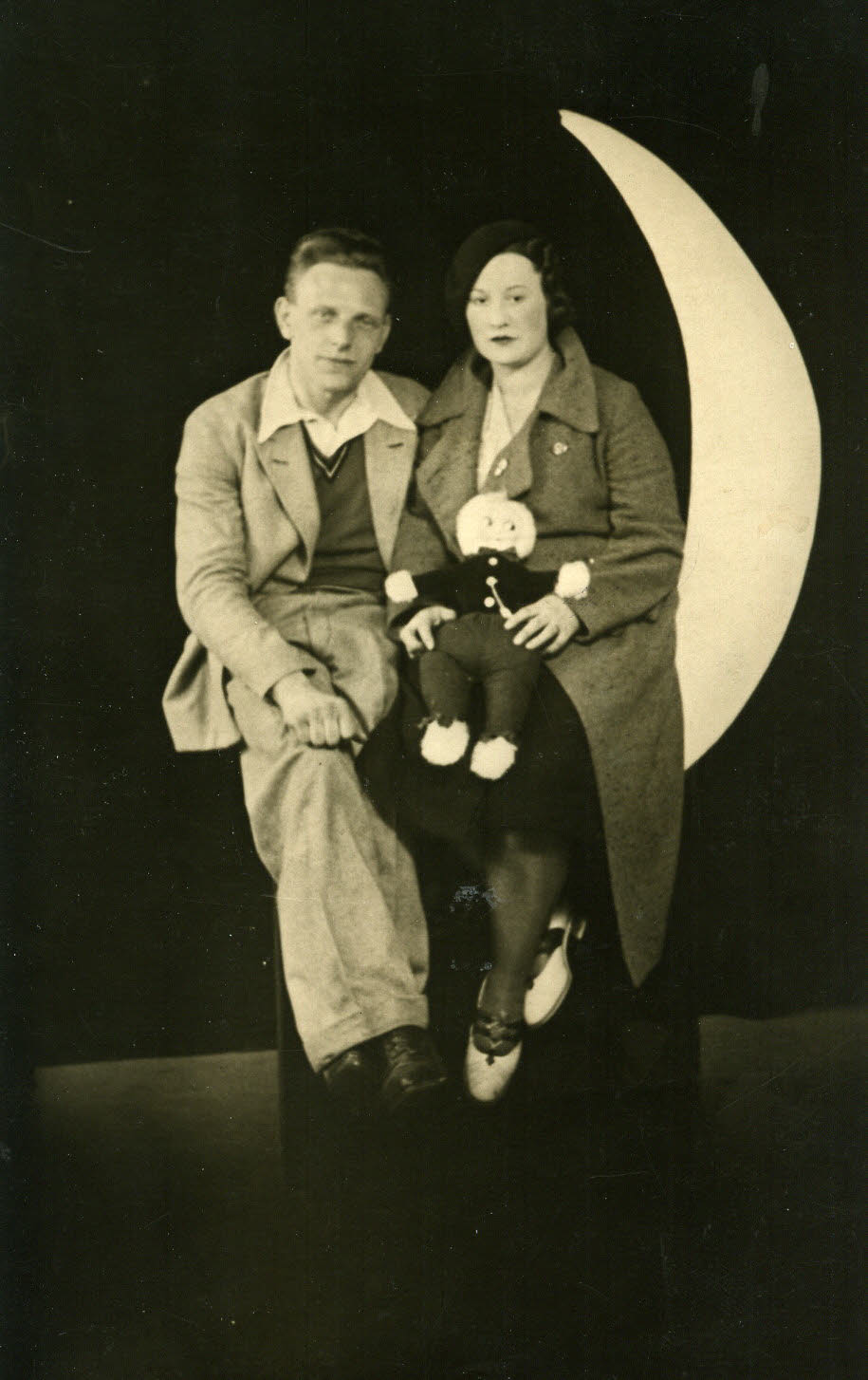 This is the earliest photo I have of him, seen here when he was courting my mother.
At the age of 3 he still lived at 18, Denby Street, Sheffield which had six rooms.
My father did not have a easy childhood. He spent 3 years in Rivelin Hospital and had many illnesses, including tuberculosis, for which at that time, there was no cure other than complete rest. To further compromise his younger childhood he had a very serious accident when an old-fashioned mangle-machine fell on him. This damaged his leg so badly he had to walk with a stick from then on.
All these problems affected his education because he had so little time at school. This setback did not prevent him from acquiring a good job because he taught himself the school subjects.
He worked at the Admiralty on Jansen Street and did get the chance of a promotion. He had to go for an interview in London and he took Mum and me with him: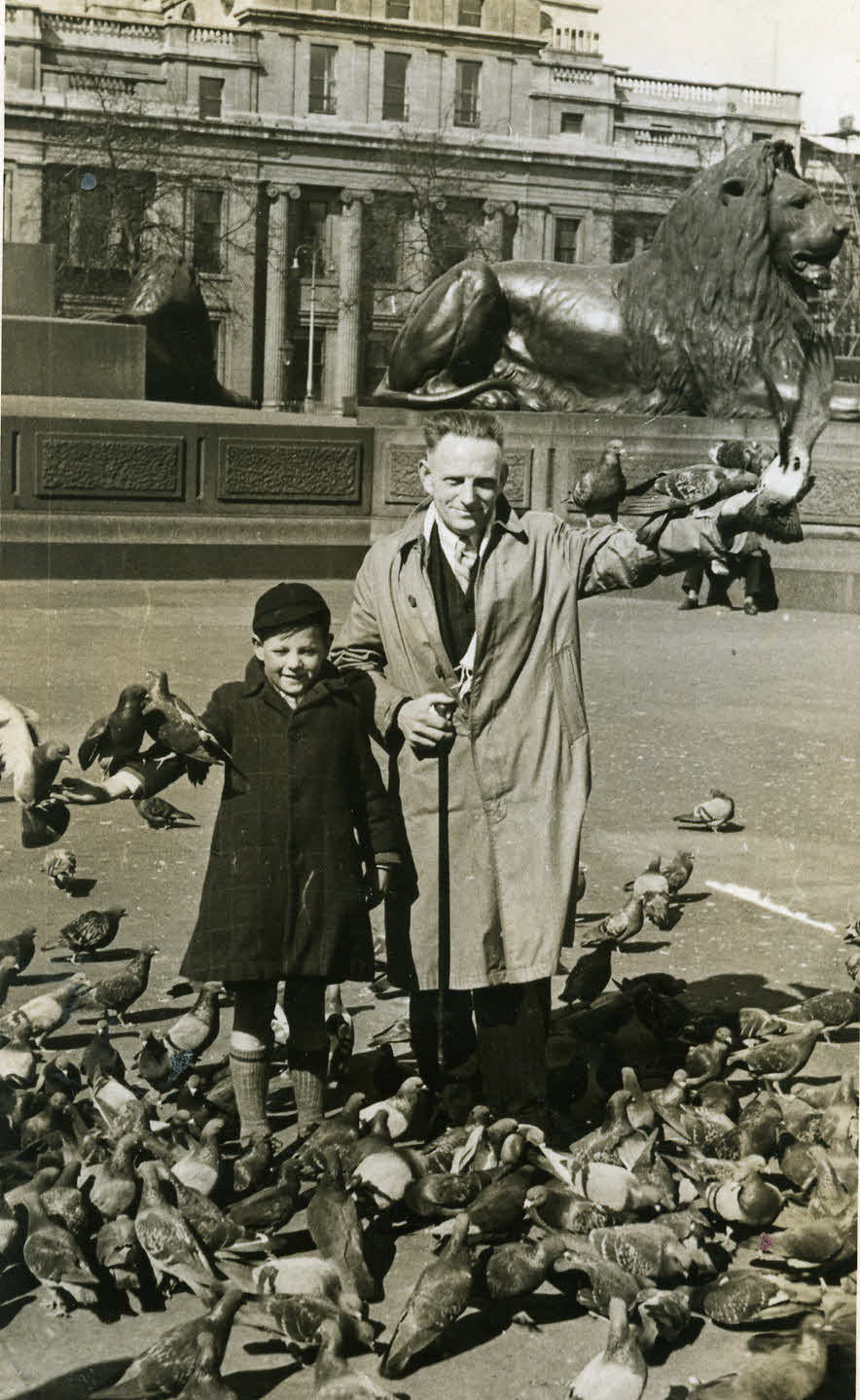 Here we are in Trafalgar Square.
Well, his interview was not successful, which is probably a good thing because a promotion would have needed us to move to London. That would have changed the lives of so many people.
At the ages of 27 and 21 respectively my father and mother were married at St Mary's Church on Bramall Lane: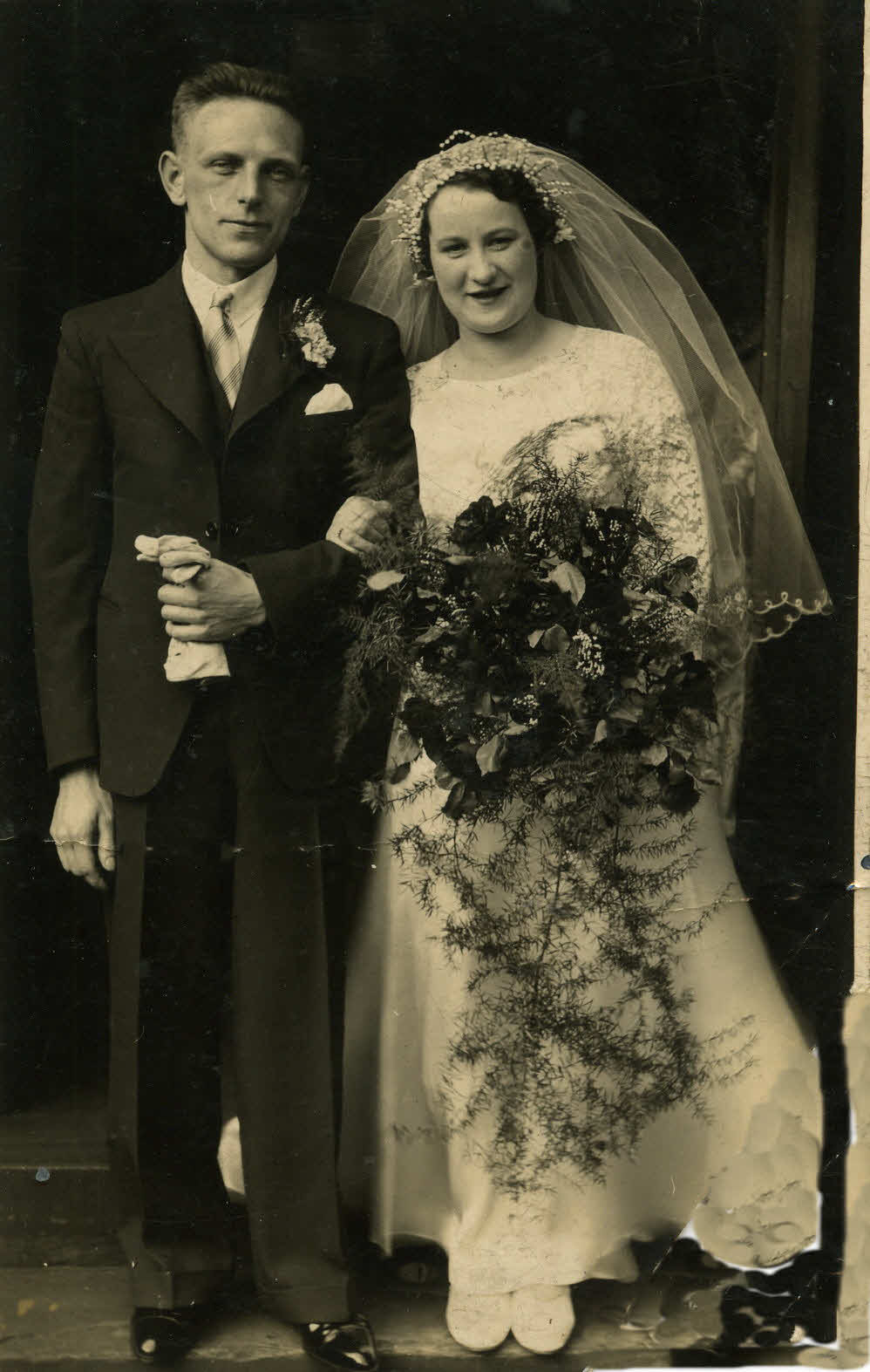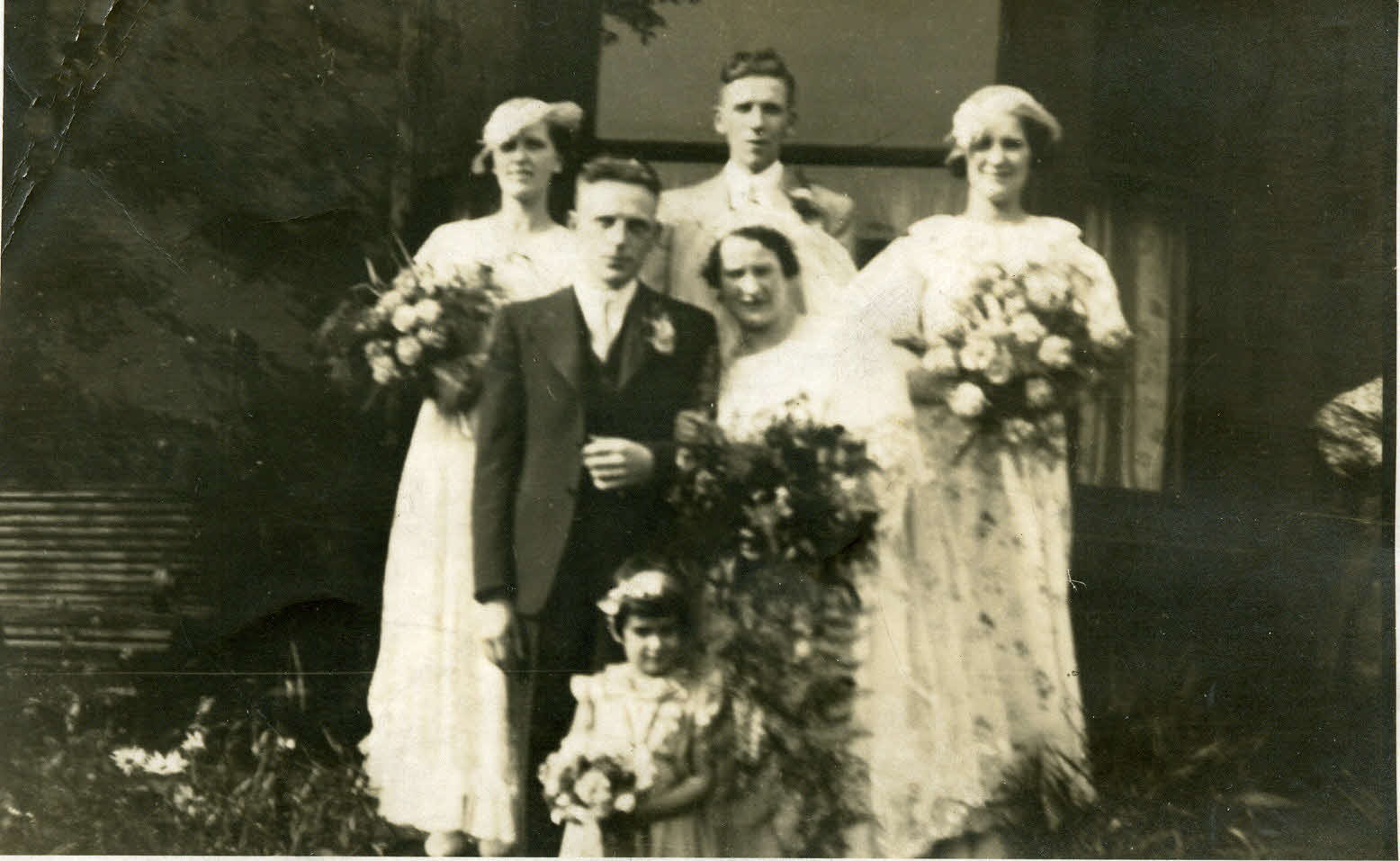 His best man was his brother, Herbert and the bridesmaid on the left is his sister, Elsie.
They set up home at 57, Countess Road just off Bramhall Lane living with my father's parents.
In the 1930's before his Admiralty job, work was not easy to find. He was, however, a resourceful person and opened a shop on Sylvester St. selling batteries for radios and cars.
When I was very young we lived at No. 26 Pomona St: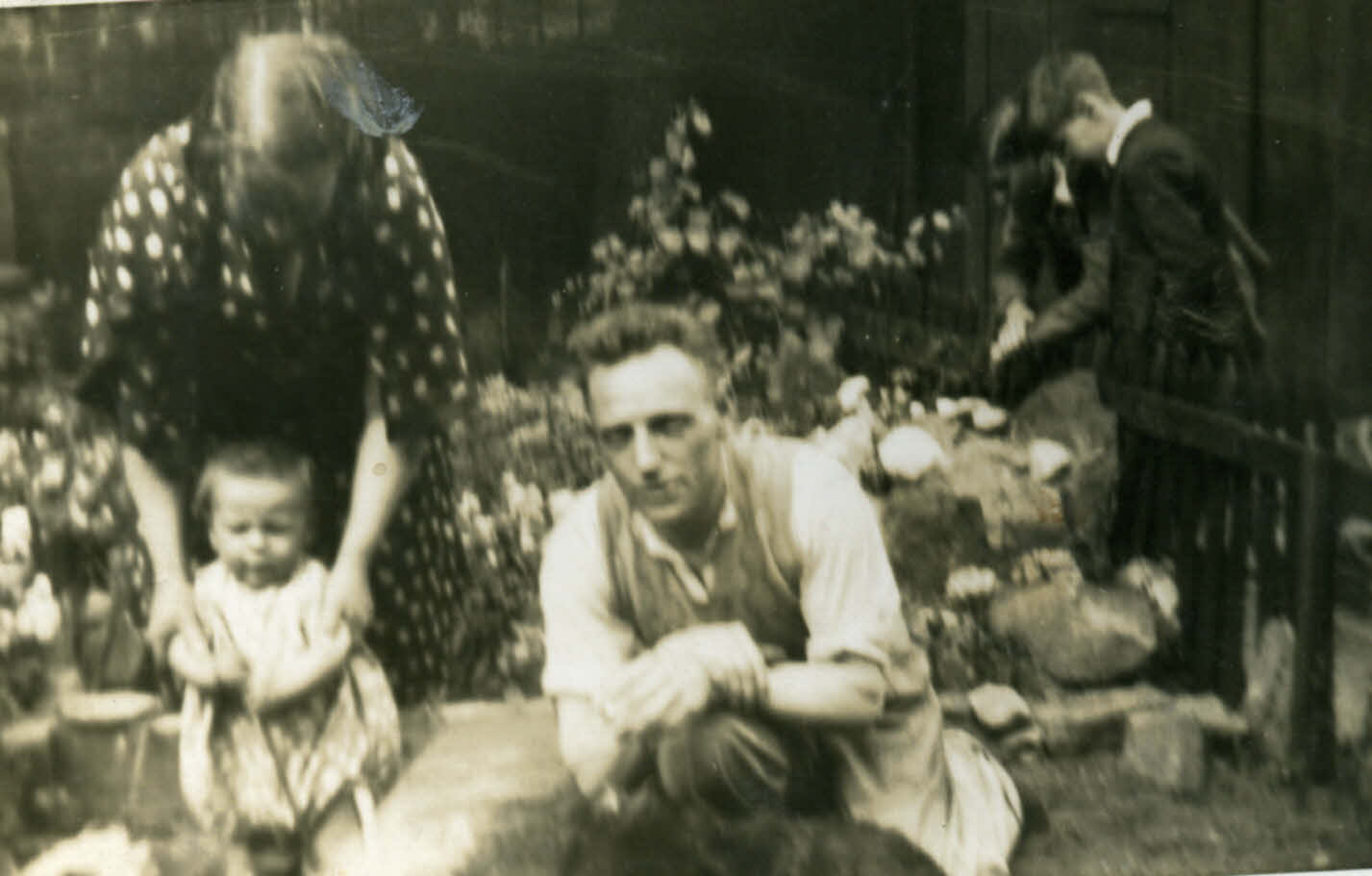 Sorry about the quality of the photo but it is over 70 years old.
My parents were not rich but they owned something vey few people had in those days. This: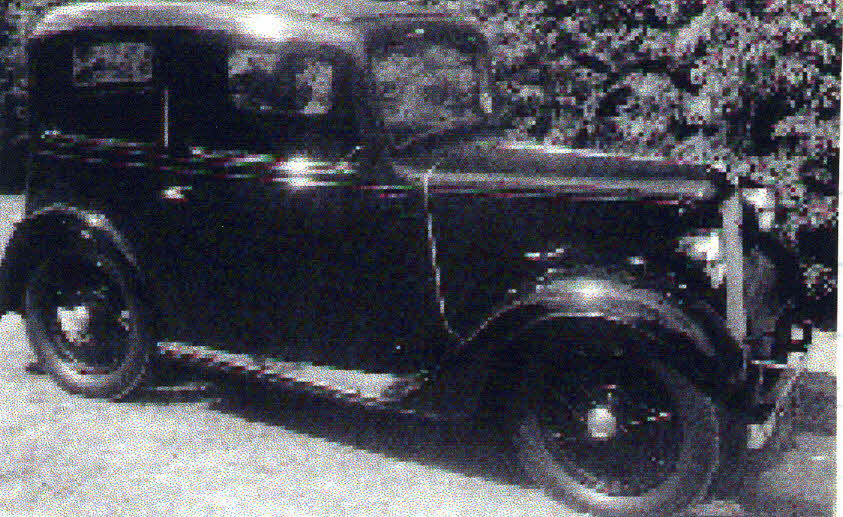 A 1937 Austin 7.
When the Second World War broke out in 1939 petrol was very scarce so one day whilst my father was out at work my mother sold the car for £5!
When I was born on 31st October the war with Germany was just 2 months old. In our back gardens many families had an Anderson Shelter. These were made of corrugated iron and were half-buried in the ground. My very first recollection of my life occurred when I was just 14 months old. Sheffield was one of the world's largest steel producing cities and a prime target for Germany's Luftwaffe.
On 12th December 1940 a total of 280 enemy planes descended on our city dropping 1000lb bombs and incendiaries.
The Sheffield city centre suffered heavy damage: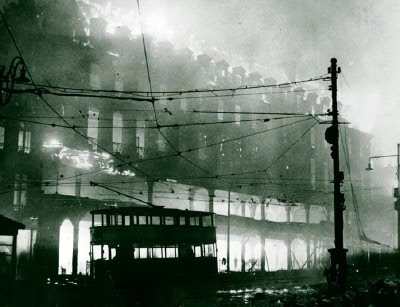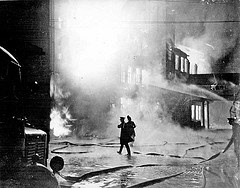 I remember being woke up in the middle of the night and taken outside on my grandfather's shoulder to their shelter, a few houses below ours. The air-raid sirens were screeching and I could see searchlights in the sky ( although I had no idea what they were or what was going on). The blitz lasted for 4 nights and on one of these nights we were in our shelter. An unexploded incendiary bomb hit the shelter. My father went outside and started throwing damp soil on it. It exploded and burnt his leg so badly his trousers were stuck to his skin.
The war lasted about 6 years. Food was so short that rationing was introduced. The resourcefulness of my father was evident- he kept chickens and ducks in our back garden. He told my mother - "There is no way our son is going without fresh meat and eggs".
When the war ended we were able to go on holiday together: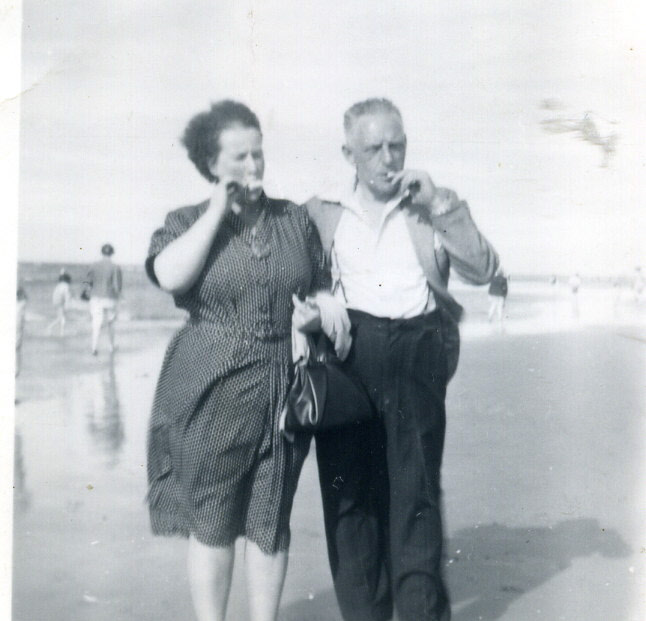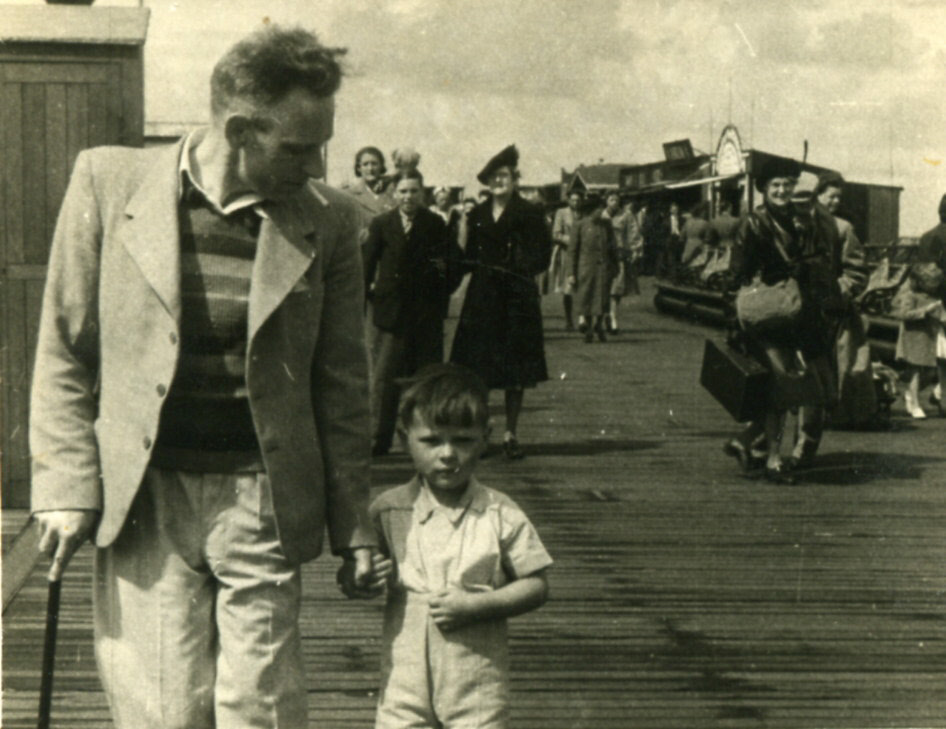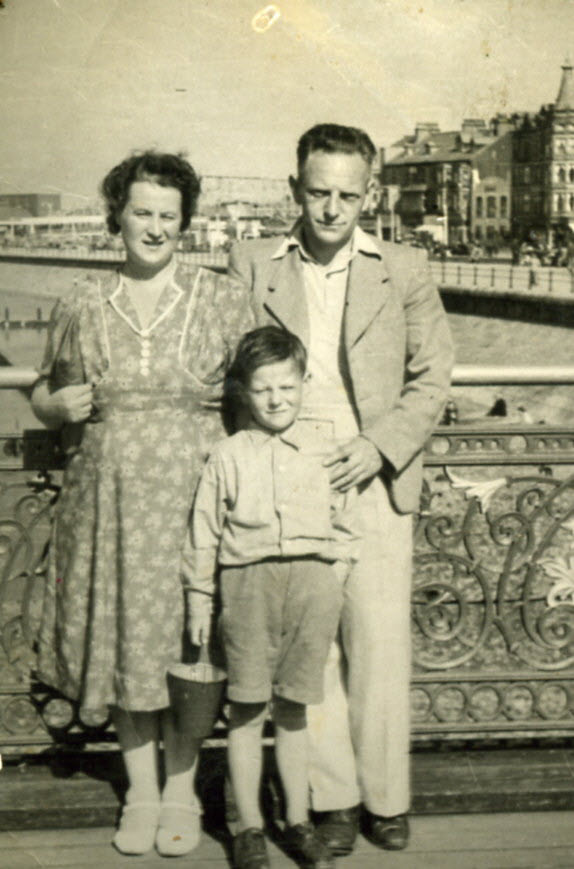 We spent many a happy week at Blackpool.
Those times of hardship where the necessities of life were in short supply probably shaped my father's character. He would not employ a tradesman if he thought he could do the work himself.
The rear of our garden backed on to an access lane which gave him the idea of building a garage. He had no experience of brick laying but that did not hold him back and he used me as his labourer. A few hundred yards from our house on Summerfield St was this river: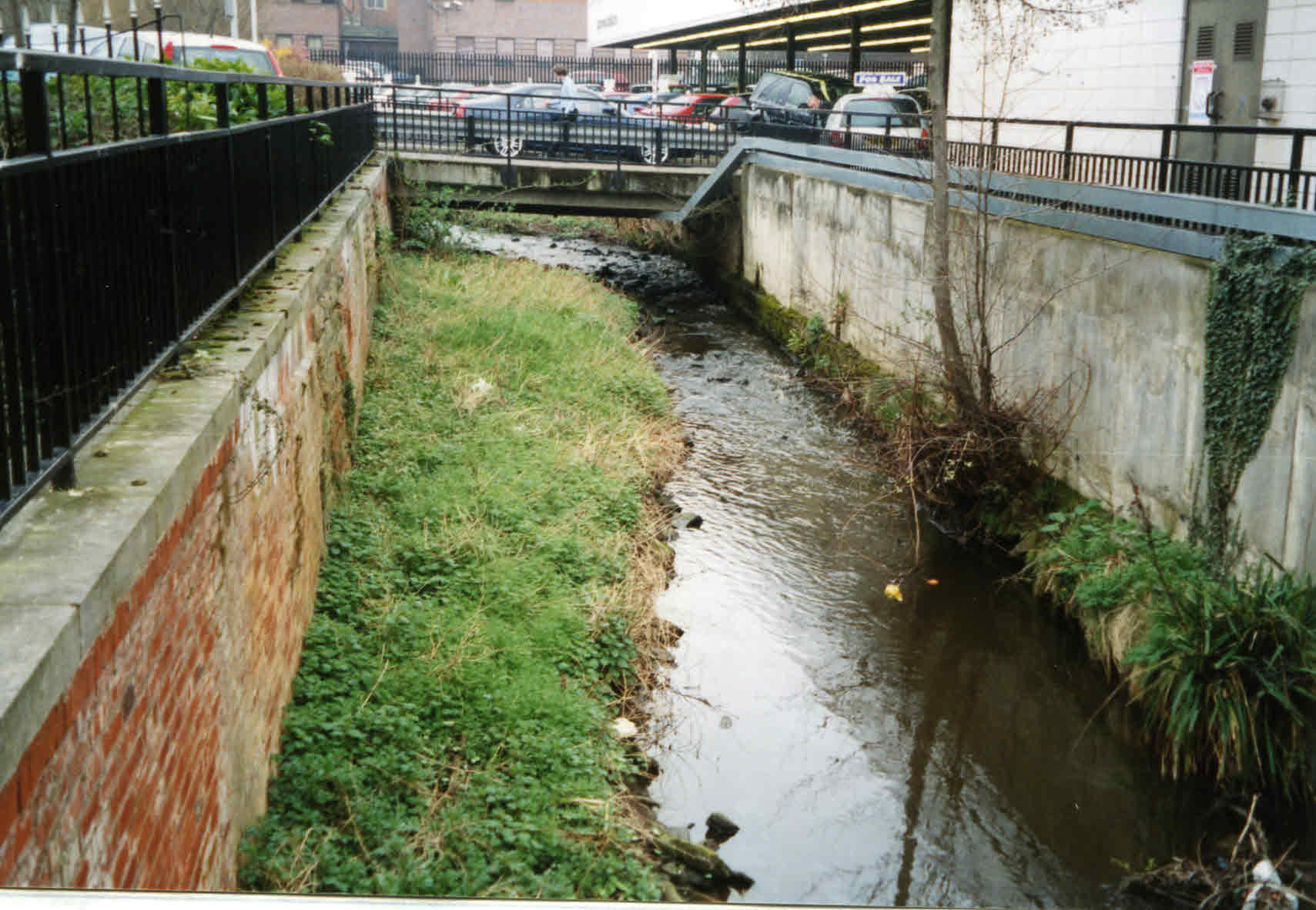 It looked nothing like this nearly 60 years ago. There were hundreds of old house bricks submerged in the water that had been washed down by the current. Well he had me, with the aid of a wheelbarrow, recover enough of these bricks to build his garage. I do have a photo of it nearing completion: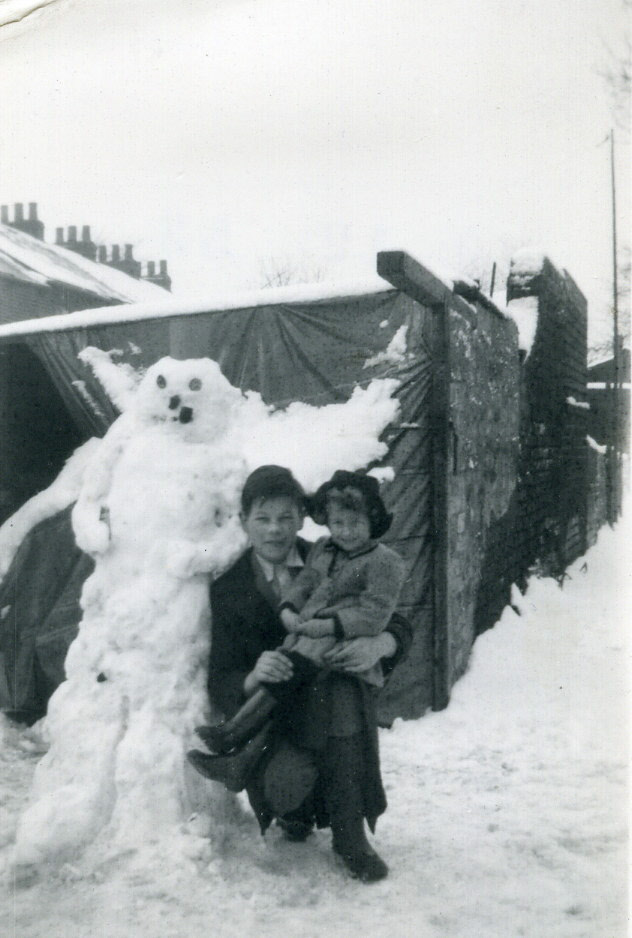 Here it is minus the doors which he still had to make. The snowman is my building ability and the young girl is my cousin, Tricia.
Another example of his resourcefulness and practical ability occurred when he wanted a static caravan. To save money he bought something to renovate that had once been a public tram rather than a caravan: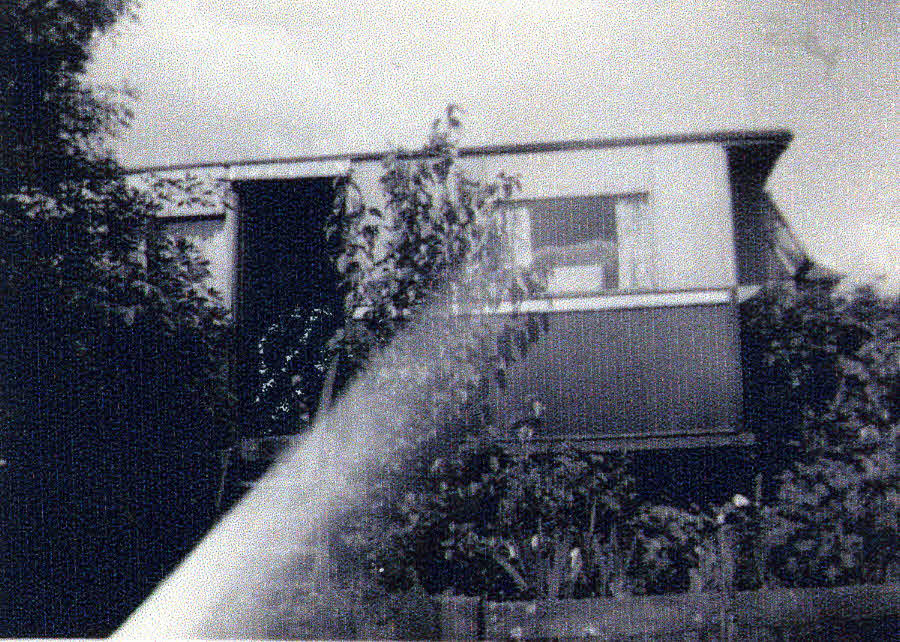 First he needed to get the contraption to our house. Did my father hire a lorry to pull it there? NO, he hired a horse! I will never forget the sight of the horse galloping up our back lane with about 20 kids running behind pretending they were Indians, on horseback, chasing a covered-wagon just like in a Western movie.
He obtained a site for it in the countryside at Long Line, Dore and we used to go there every weekend. He was a very keen gardener and had an immense fruit and vegetable patch there. The first thing we would do on arriving was to dig up some potatoes and get the chip-pan on. ( fries-pan in American colloquialism ).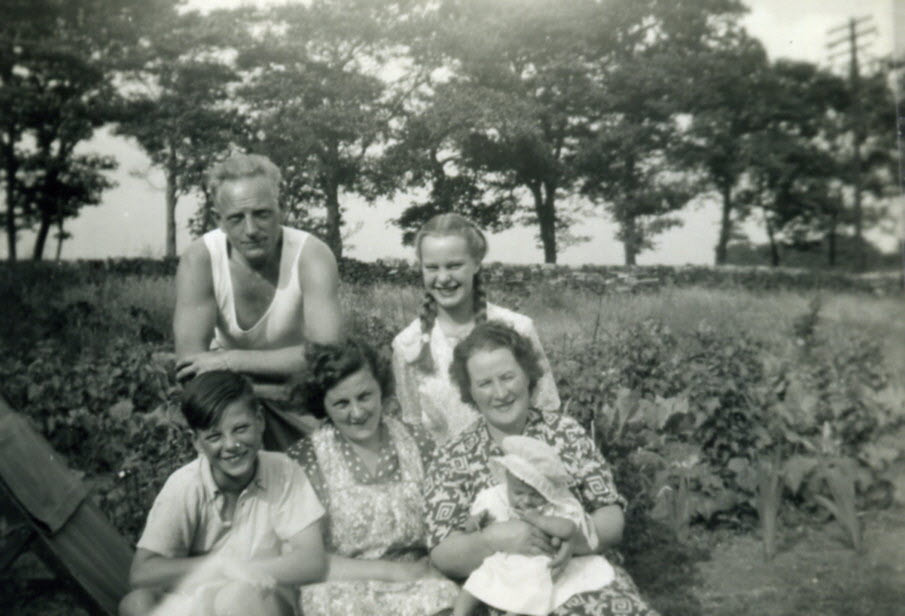 Ours was the only van on the site and friends and family would often visit us there. You can see his vegetables growing behind us.
It has been remarked that my son Dean has some facial resemblance to my father. This may be true but I know something that has not been handed down in my father's genes to Dean. HANDWRITING!
Here is a sample of Dean's handwriting.
To compare it with my father's I will need to show you a Silver Wedding Anniversary card he sent my mother in 1961: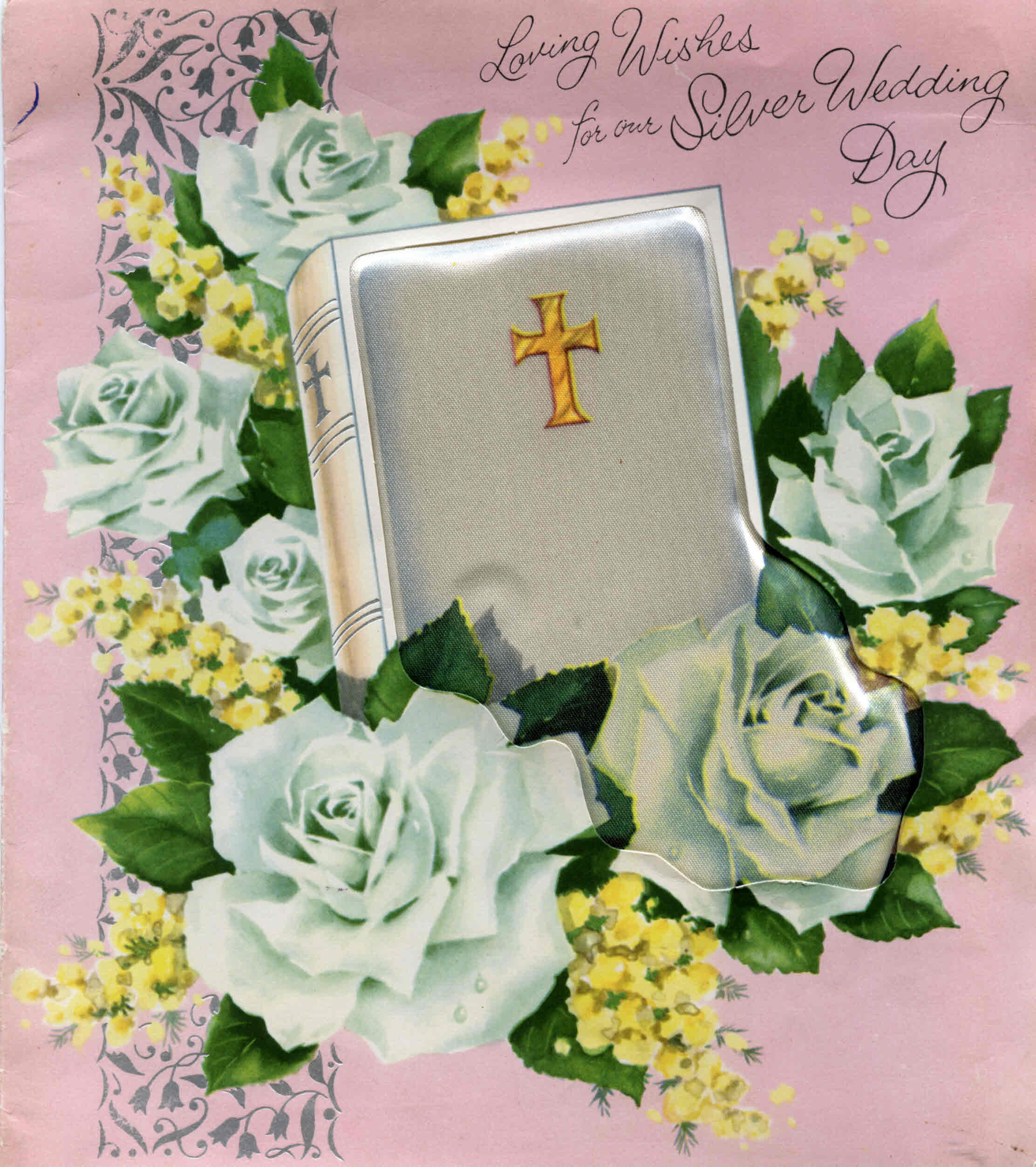 Inside is his distinctive style of writing - and he hardly ever went to school.
In the 1950's prior to our caravan we used to go camping to Alport near Bakewell. We had 3 tents that were kept on site here: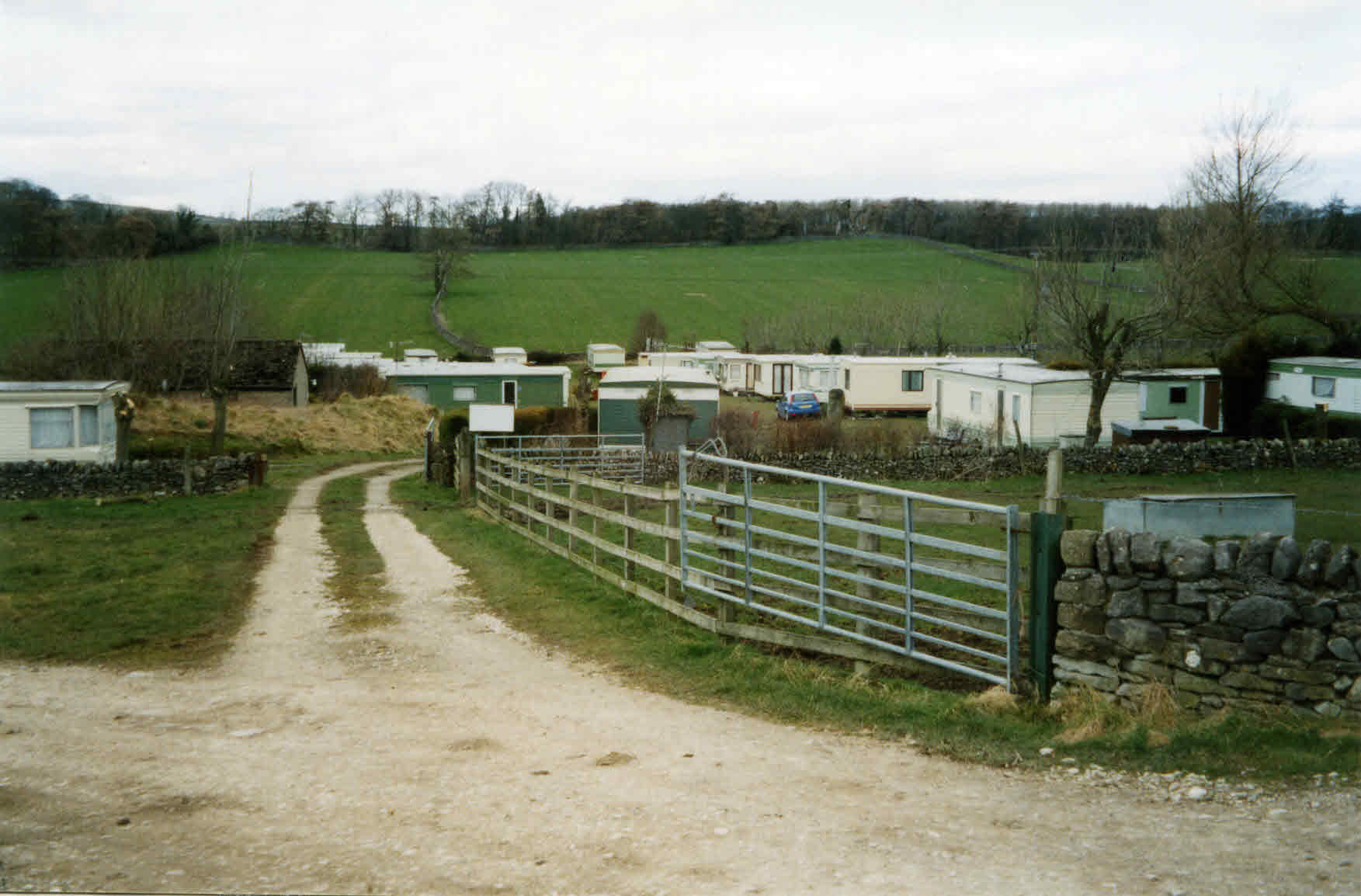 I spent many a happy summer holiday in the distant field loading hay, with a pitchfork, on to a farmers horse-pulled cart.
Other holidays I spent with them were on the South coast at Bournemouth and Weymouth: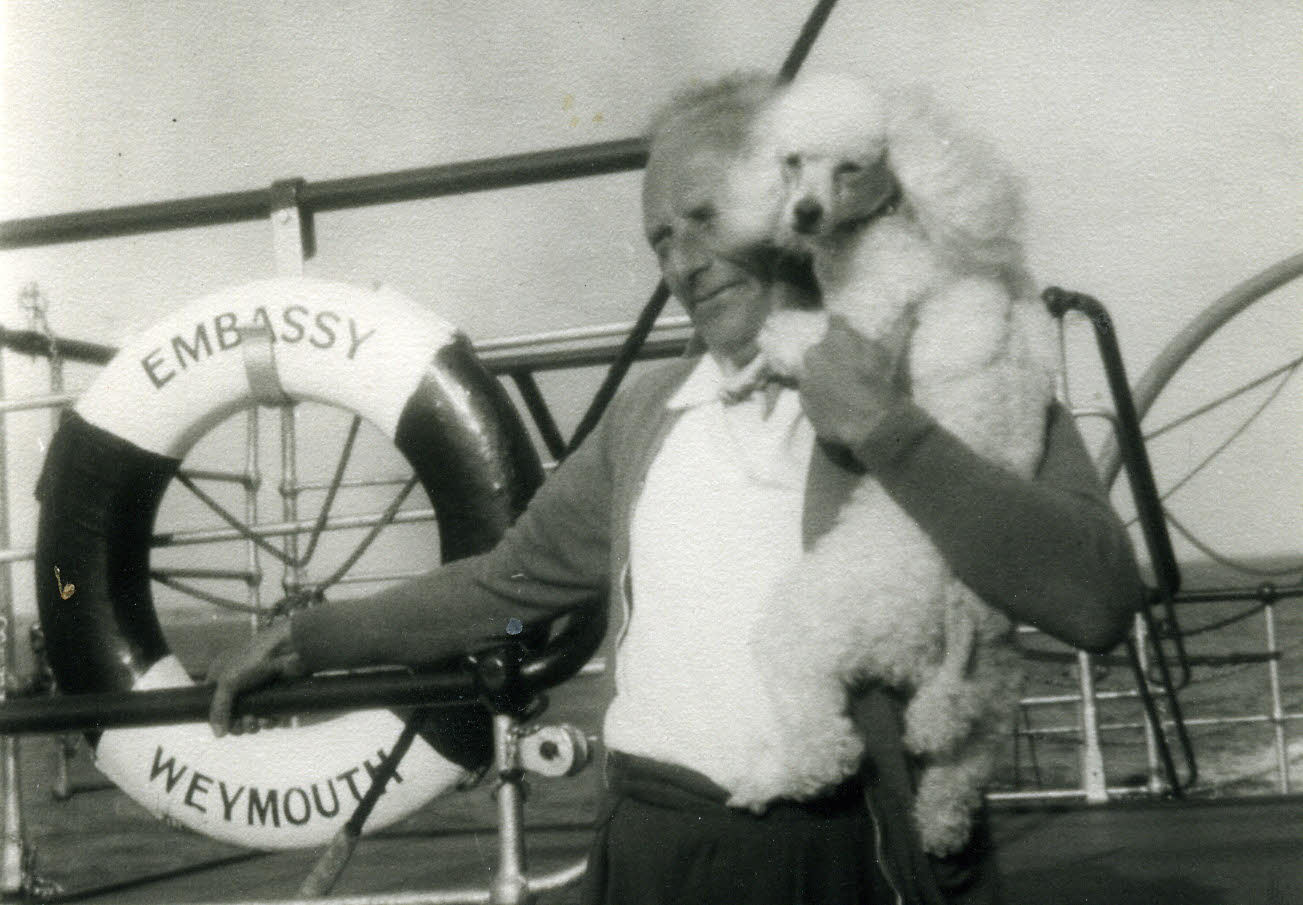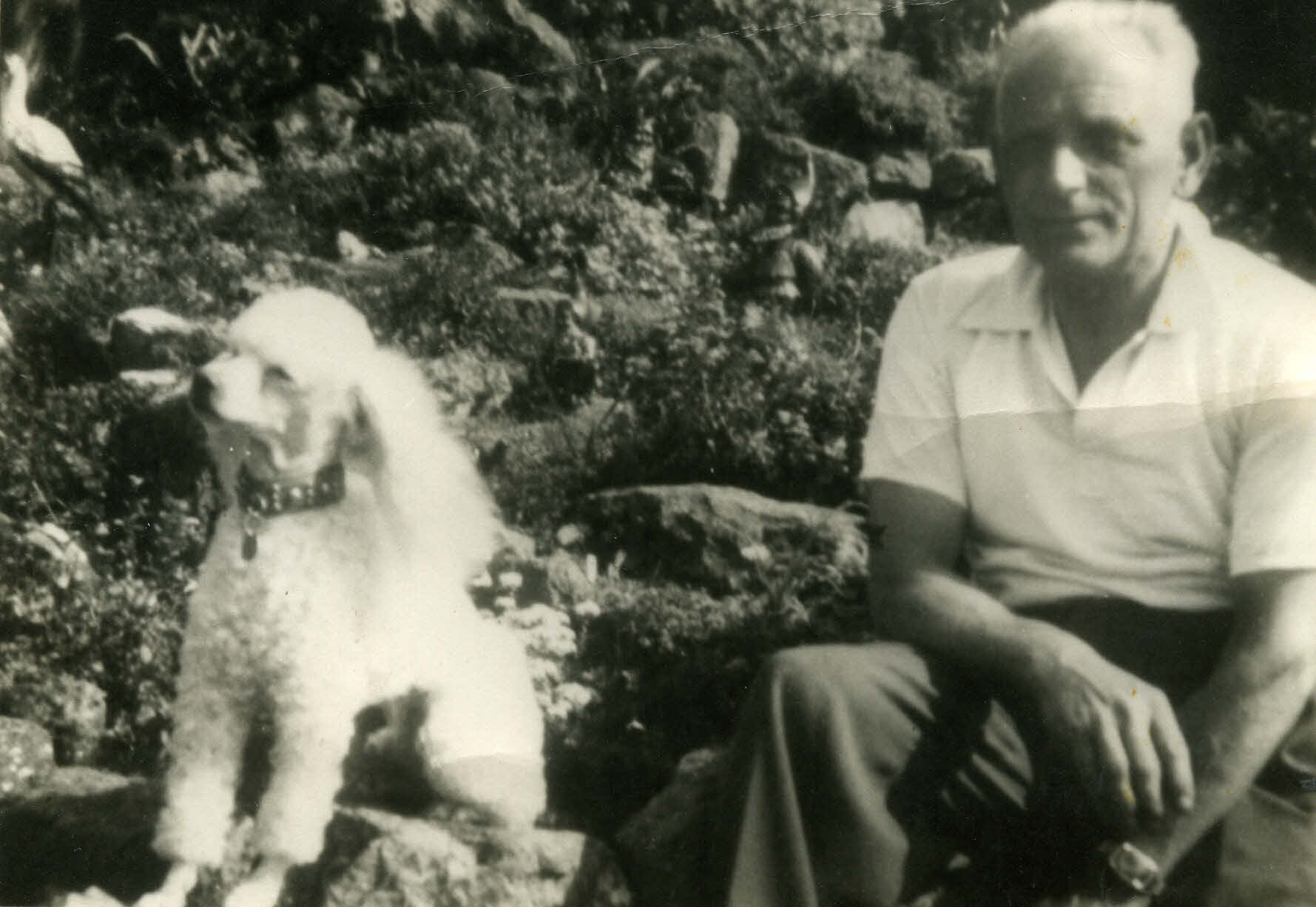 This was our dog at that time, Snowy a French Poodle who lived to be 16.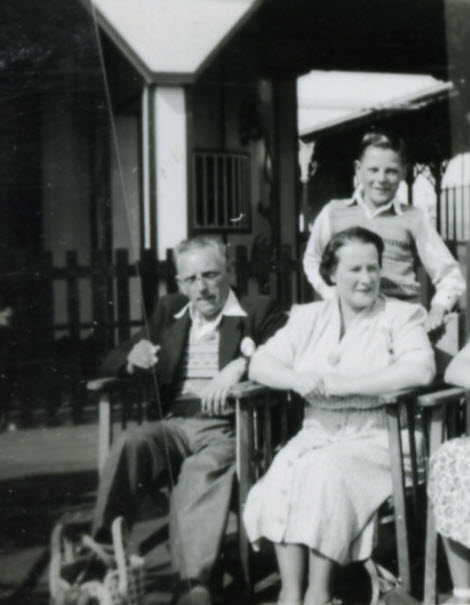 Can't think where this holiday photo was taken.
As I mentioned, my father always walked with the aid of a stick because one of his legs was longer than the other. With the advancement of the operating skills of surgeons he was offered the opportunity of having his leg lengthened. This he accepted and went into hospital. The operation was major and he was in for 6 weeks. The first time my mother saw him after the operation she burst into tears. He was in plaster from his chest down to his feet, inclined at 45 degrees, with a vast array of pulleys and weights attached to his leg. He suffered tremendous pain and discomfort but not once did he complain.
The operation was partially successful and afterwards he did sometimes walk without his stick.
Well, time marched on and my father entered his 50's: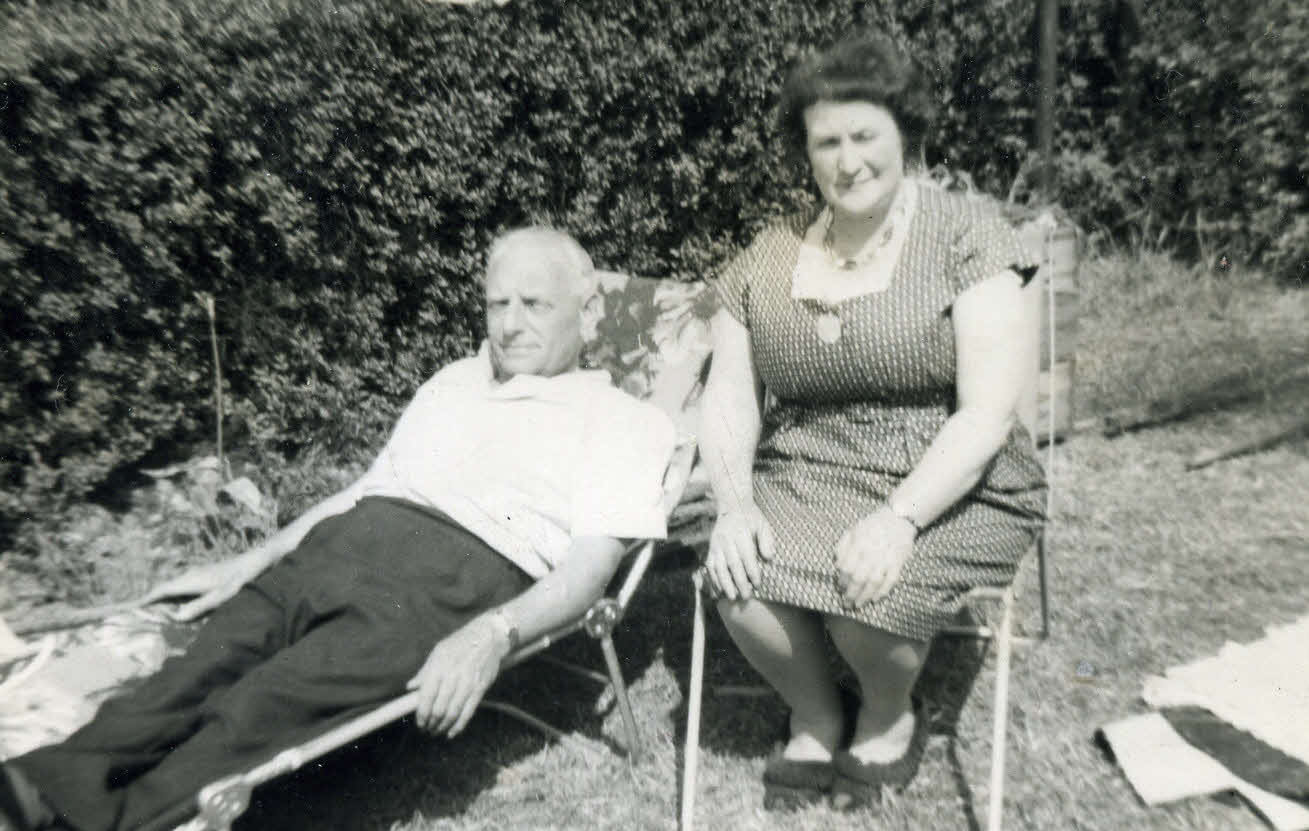 He and my mother were a devoted couple. He was still working at the Admiralty and my mother helped increase the family income by working at a drugstore on Ecclesall Road called Hartleys.
We often went to the East coast on holiday: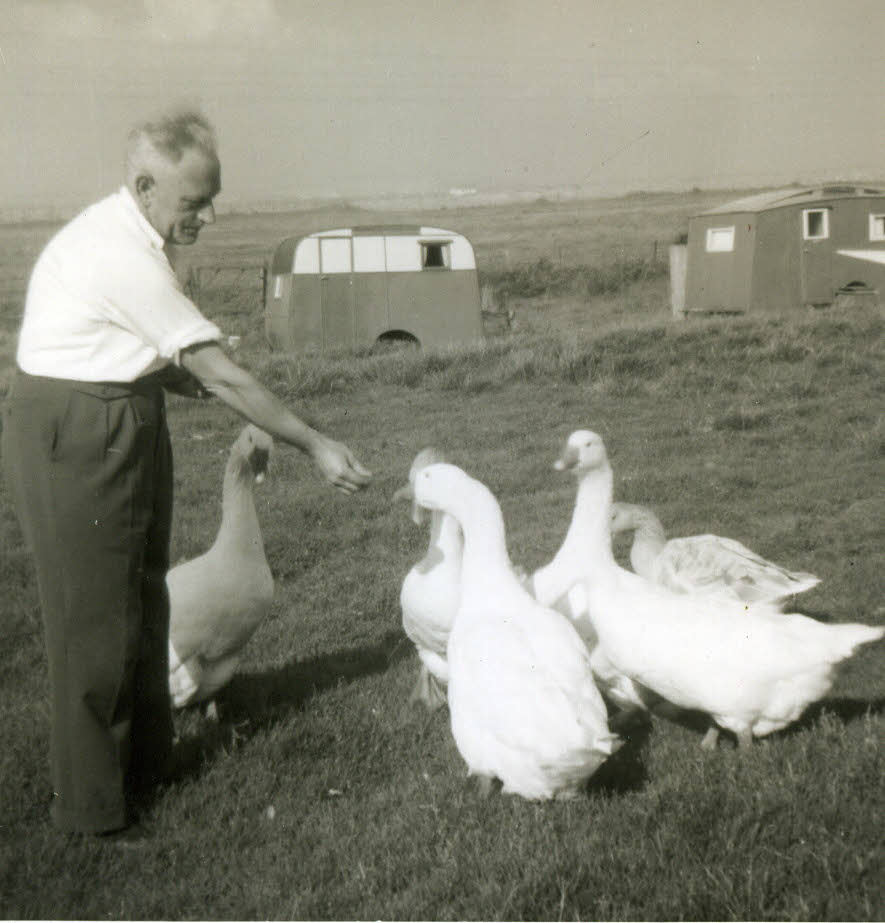 Here he is at Flamborough Head.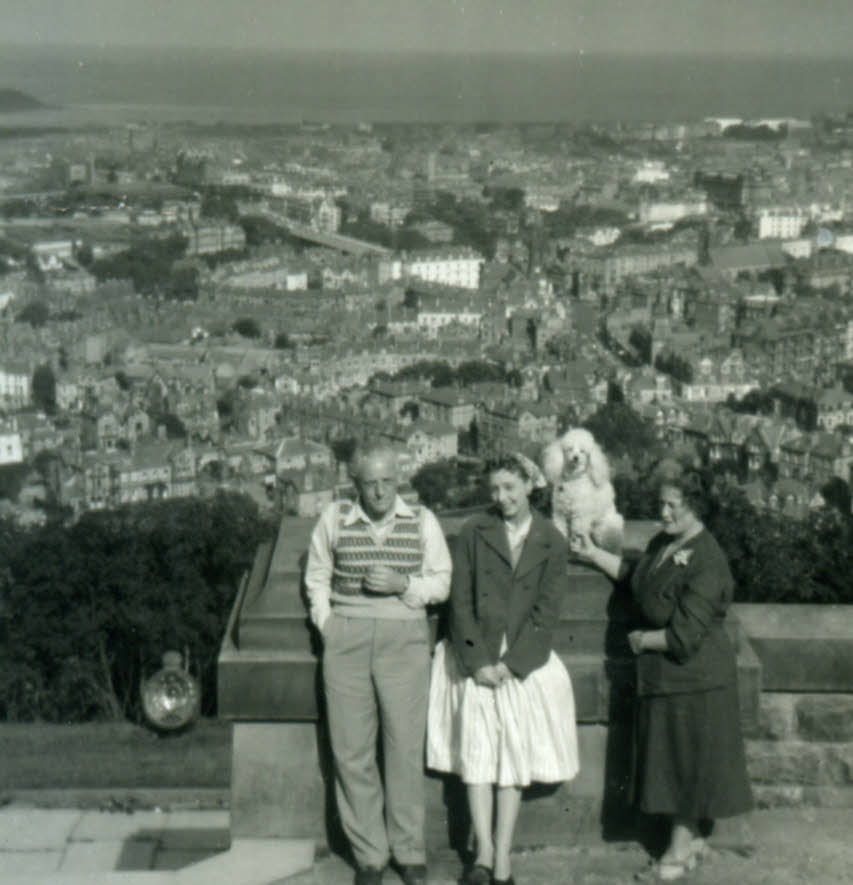 And a more recent photo at Oliver's Mount, Scarborough, with my mother and Jacqueline,
By now I was married to my wife, Jackie. She and my father were big buddies.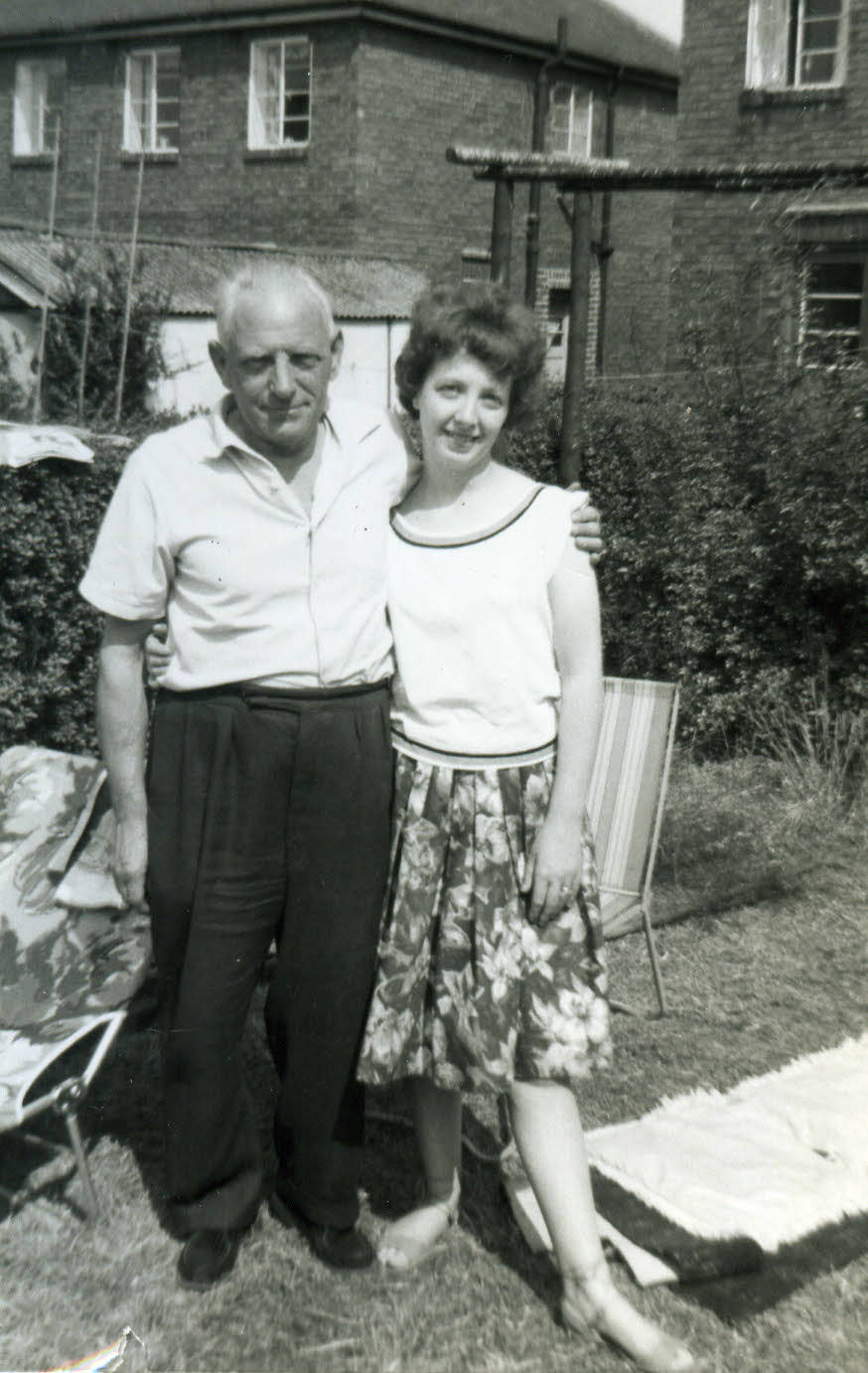 He would sit contentedly whilst she wound what hair he had left round and round in her fingers.
Then came that fateful day 21st April 1964.
My father had just, a few months earlier, purchased his first brand-new car. ( all his others had been second-hand);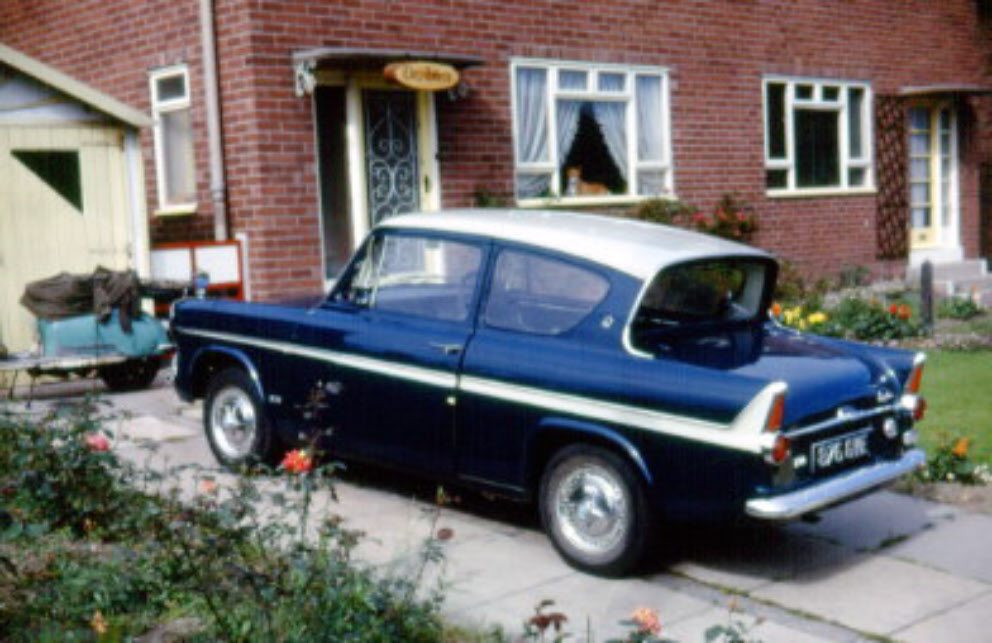 A Ford Anglia 1200cc
Jackie and I had just returned on our Lambretta scooter to our home in Brinsworth when the telephone rang.
It was my mother telling us that my father had come home from work, pulled up outside his garage with the engine still running, and then collapsed. He had been taken to the Royal Infirmary Hospital so we immediately rushed back to Sheffield.
On entering his ward the doctor said he was seriously ill and we found him lying there unconscious. We were all asked to leave the ward and two hours later we were told he had died. He had suffered a cerebral haemorrhage.
This was a devastating blow for my mother and me to lose him at only 54 years of age. I remember sitting on the ground in the back lane where he had collapsed sobbing my heart out and my mother trying to comfort me in spite of her own grief.
The effect on my mother was especially cruel because in less than two years she had lost her son to his marriage, and the deaths of her father and husband.
Not being able to drive, my mother told me to take my father's car and keep it. To own your first car should have been a pleasure. Not so for me I felt I had swopped my father for the car.
My final comment is that I will always feel fortunate to have had such loving and caring parents. Not once in his life did my father hit me for anything I had done wrong.