JACKIE JACKSON. AFTER MARRIAGE
When we moved to Godric Drive in November 1964 I was 6 months pregnant. Our first child, Dean, was named after a film star and singer who was popular at that time - Dean Martin.
Dean was born at Listerdale Maternity Home and was an easy birth but not without some trauma for me. Immediately after giving birth my blood pressure dropped and I passed out. Everything turned out all right and we had a healthy 7lb 4oz son.
22 months later along came our second child, who was born at Moorgate General Hospital, Rotherham. Two weeks before she was born I attended this hospital to receive an iron drip which was carried out to prevent a recurrence of what happened when Dean was born. Our daughter, weighing 6lb 3oz , was named Hayley after the film star Hayley Mills who was well known in 60's for her film Pollyanna.
To complete our family our final child was born at home on 1st July 1968. This was our second daughter, Lisa Diane, who weighed 8lb 4oz. Lisa was a popular name at that time and we may have been influenced in choosing Diane because the pop group, The Bachelors, had a No.1 hit with Diane in 1964.
After the disaster of owning and losing our first dog, Tony said he didn't want another one.
We had three children now and they were all keen to have a pet. I decided they should have their wish but I would choose the breed of dog. It would be a Yorkie because Brian and Sheila had got one and I felt that type of small dog would suit us best.
Tony was still adamant he didn't want another dog because of the sorrow the death of Benny had caused.
He was over-ruled 4 to 1 and a pup arrived in August 1976.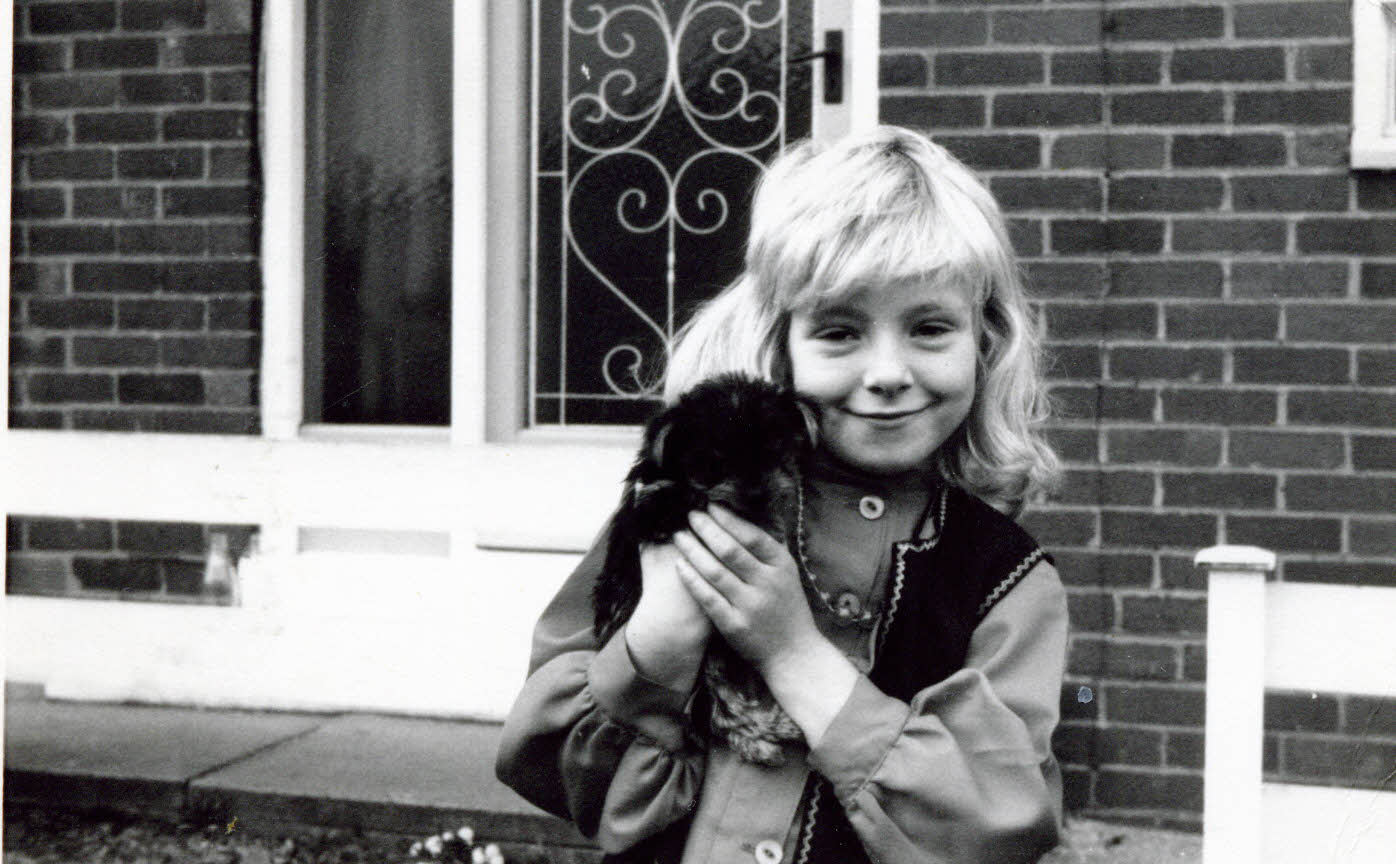 :
CINDY, purchased for £25.
When it arrived Tony said he wanted nothing to do with it and said the pup couldn't come in the lounge. A few hours later it was in the lounge having won the hearts of us all.
Over the years Cindy went on all our camping holidays with us and saw many famous celebrities. We used to go to live shows with Cindy in a shopping bag. At one show where Val Doonican was the star she was as quiet as a mouse. At another show starring Little and Large she barked loudly from the shopping bag when they fired a gun on stage.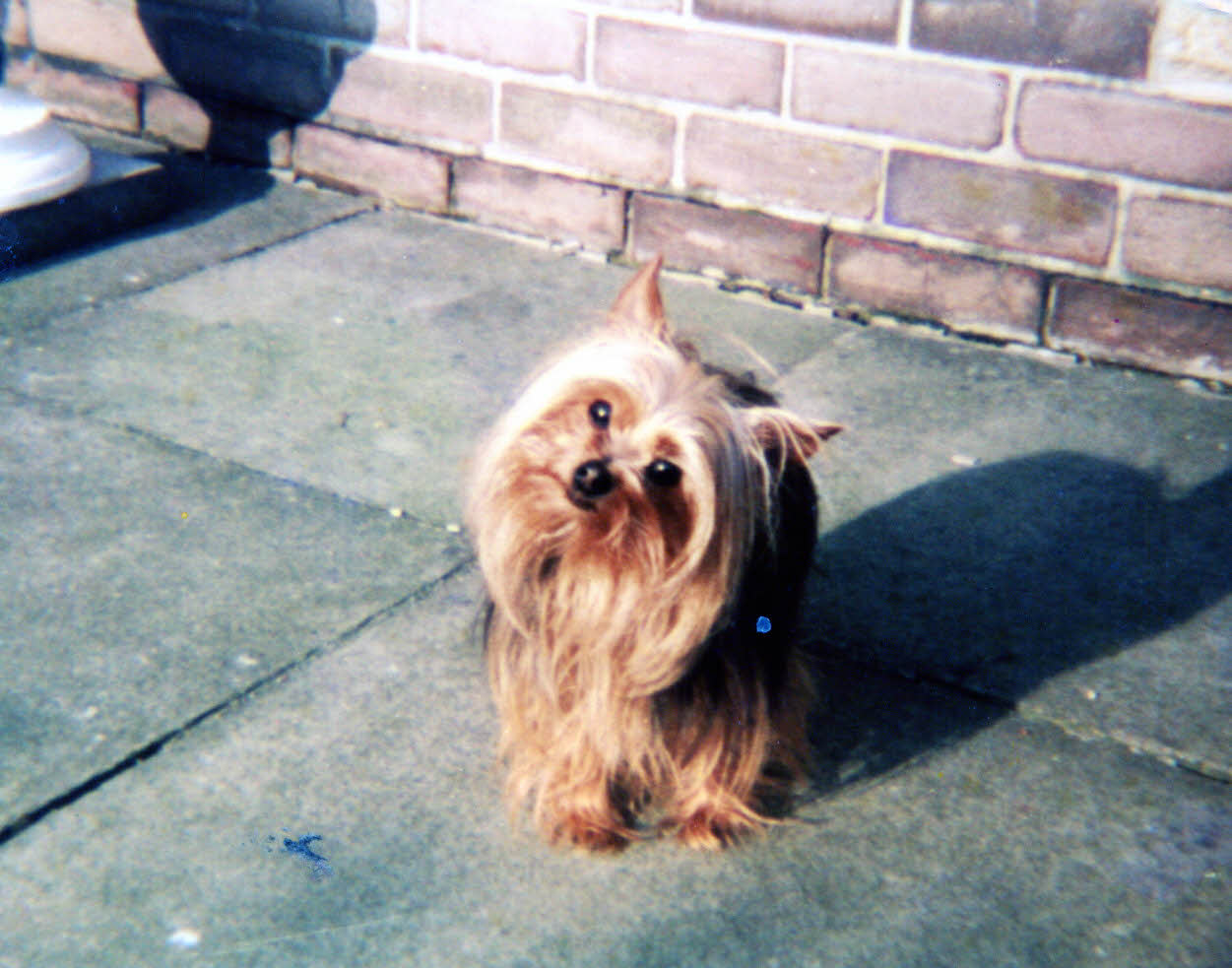 Cindy had a long and happy life and died in September 1991, aged 16.
A couple of years after our move to Bradway in 1978 I said I would like to take our three children for a holiday in Florida.
The account of this trip appears in our 100 Things To See and Do Before You Die, click it to take you there.
In January 1978 we moved to a new home in Bradway after I tired of Brinsworth.
In 1980 at the age of 40 I passed my driving test, first time. This allowed me to drive our car which at that time was a Ford Cortina, MK IV. Passing my test was an asset because soon after, Tony was in hospital for five weeks and I had full use of the car.
In 1982 Dean and I decided we would share a car so we purchased an Austin Allegro:
Initially, I couldn't find a photo of this car so one had to be superimposed on the photo below: then I found one which is on the right, below: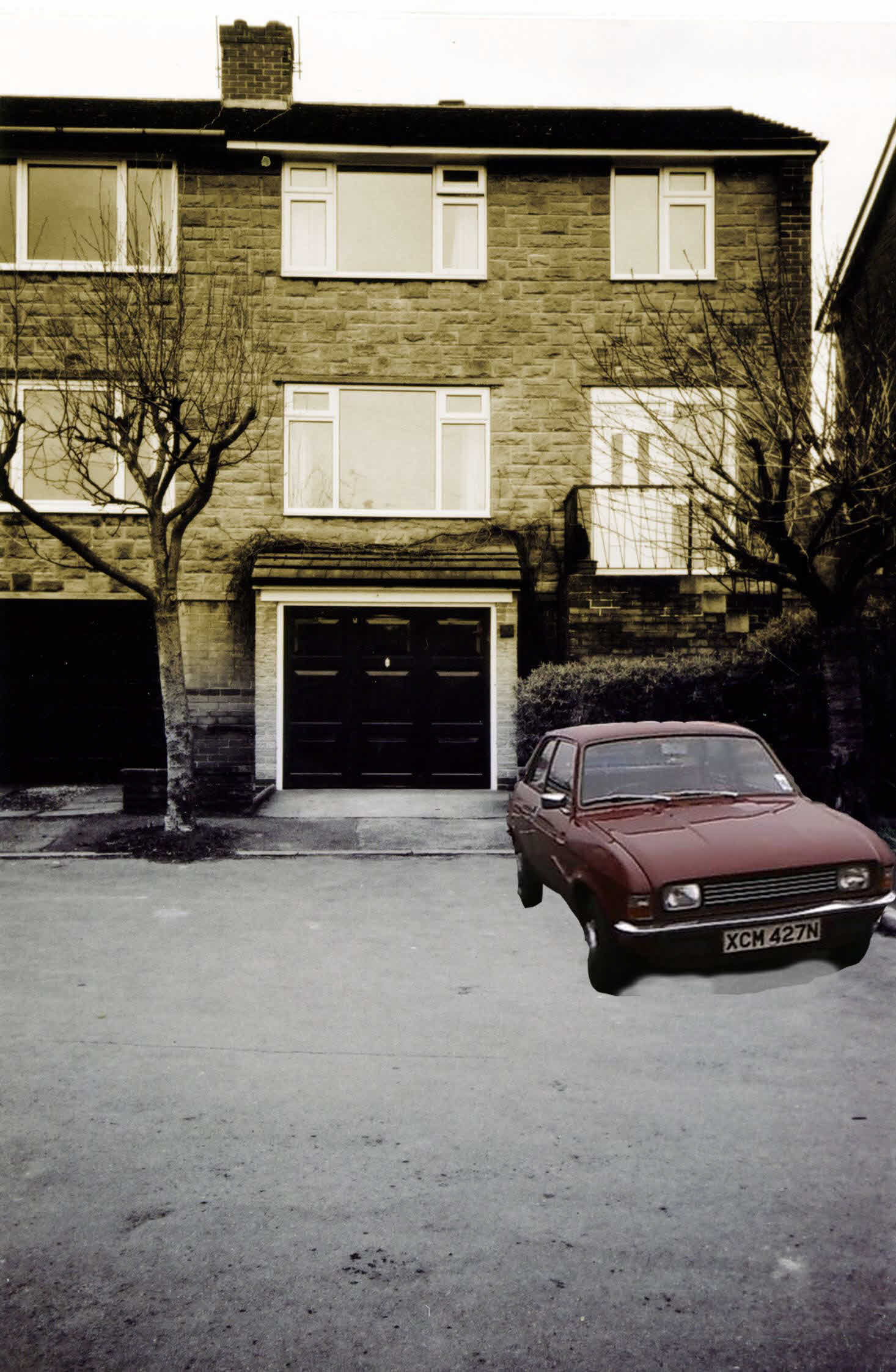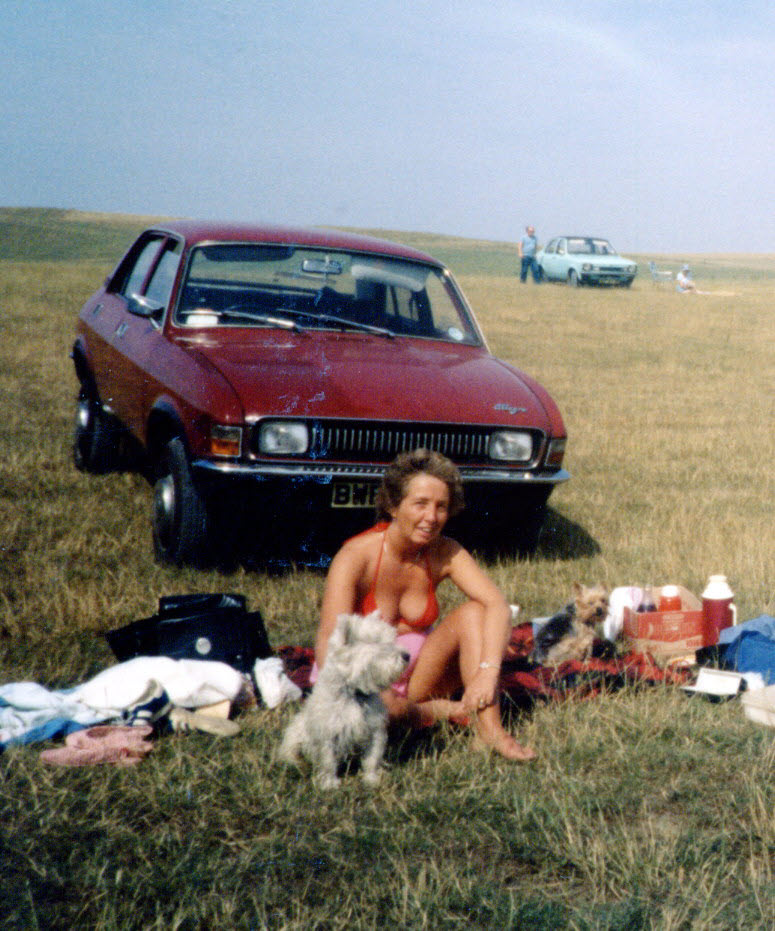 Subsequently, Dean bought a car of his own and I acquired another in somewhat unusual circumstances. It was Christmas Eve and Tony said he would need help to carry my present up from the garage. He said it could be something like a bedroom wardrobe. I was not very thrilled but got a surprise when we opened the garage door: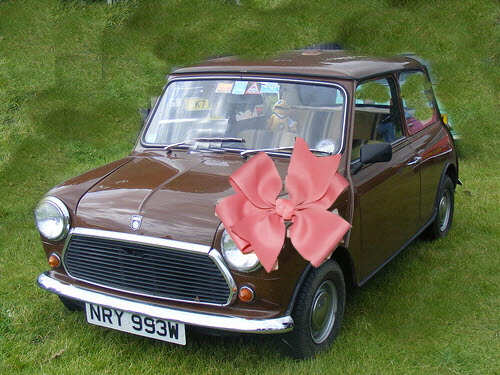 I had a brown second hand mini with a large bow fastened to it.
By 1990 all our children had left home and were married. I was not happy with our retirement from work getting near and living in a tall house with many steps. I wanted a bungalow. ( see Tony's Web pages for the details).
Having lost three Yorkies who were all like members of the family to us there was much grieving on their deaths. It was so upsetting we vowed not to have any more. But Tony used to come home form work and shout "Holly" even though he knew there was no dog to greet him.
Within a few months I made the decision- WE WOULD HAVE ANOTHER DOG.
BUT! It would have to be two so that they could keep each other company. So two it was: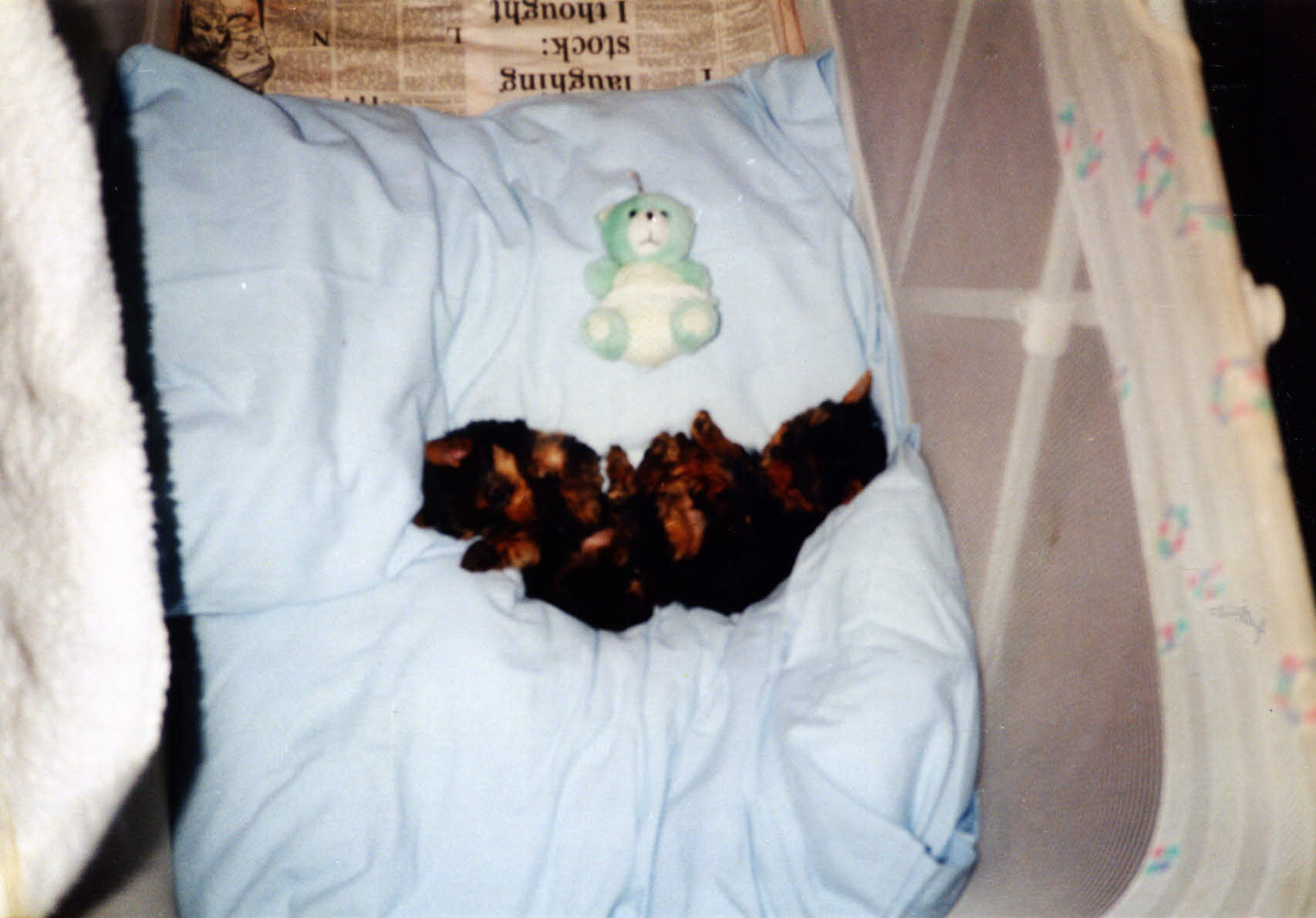 And again they were treated like humans. How many other pups get their own baby-bed?
Suzie came from Birmingham and Tammy from Sheffield, just 2 weeks difference in their ages.
After two years of absolute pleasure from these two dogs we saw another for sale in the Ad Mag. It was 6 months old and very small.
Just for interest, only, we went to see it. It weighed 2ib 8 oz fully grown - we were hooked. And then there were three!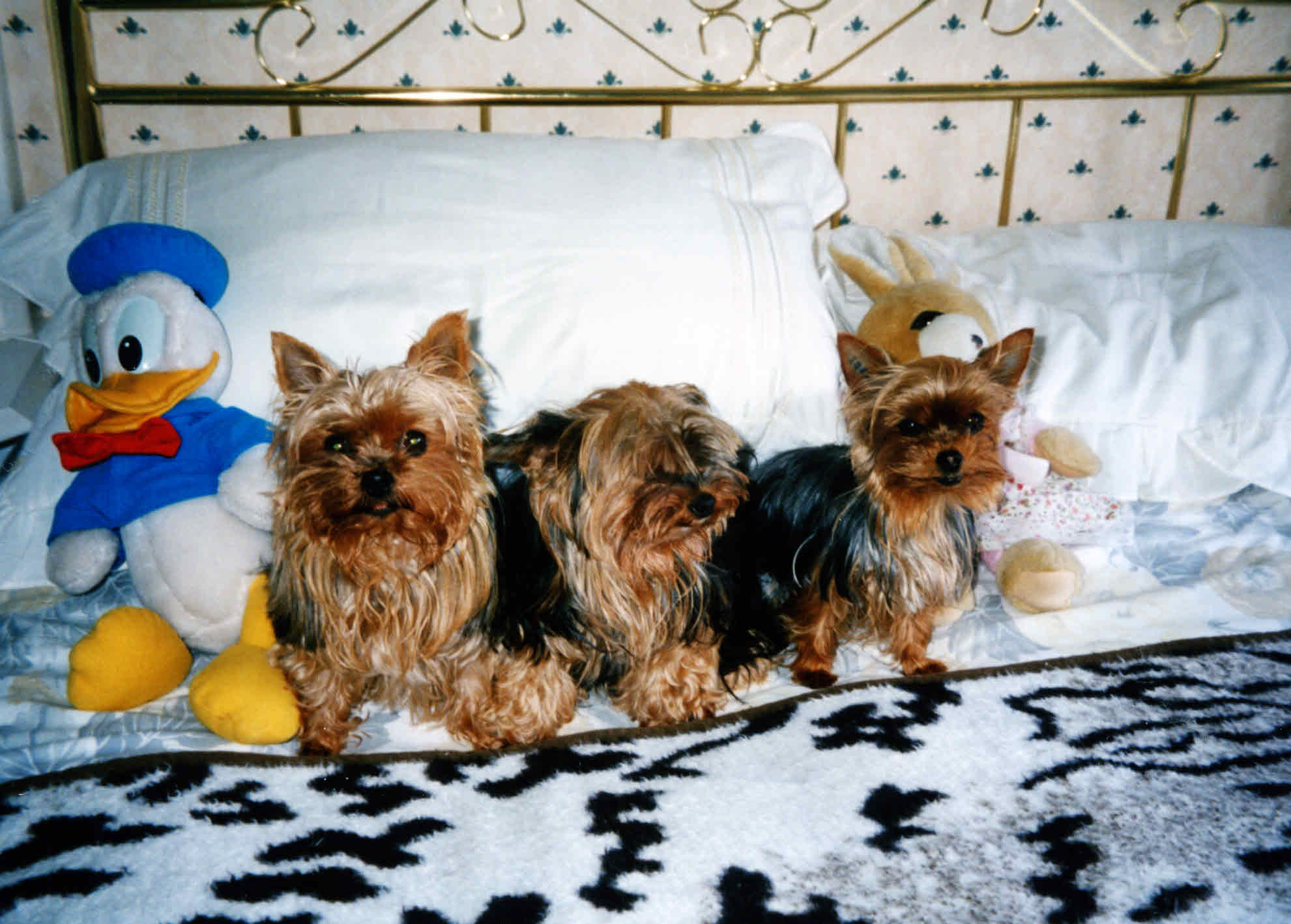 Holly, on the right was called Polly on her pedigree but we changed it to Holly to resurrect the Holly we had lost.
to be continued