Byron was born on 29th January 1957
THE FOLLOWING SHOWS SONGS RECORDED SOLO BY BYRON WHITMAN:
PART OF ME, CD
1. Andante, Andante.
2. Anything You Ask.
3. Butterfly.
4. For All Times Sake.
5. Help Me.
6. How Can I Face Tomorrow?
7. Only A Picture.
8. Part Of Me.
9. River Road.
10. Silver Bird.
11. Smile.
12. Your Dream Will Be Safe On My Pillow Tonight.
13. Rose Of Cimarron.
14. If I ever See You Again
ALWAYS BYRON, Cassette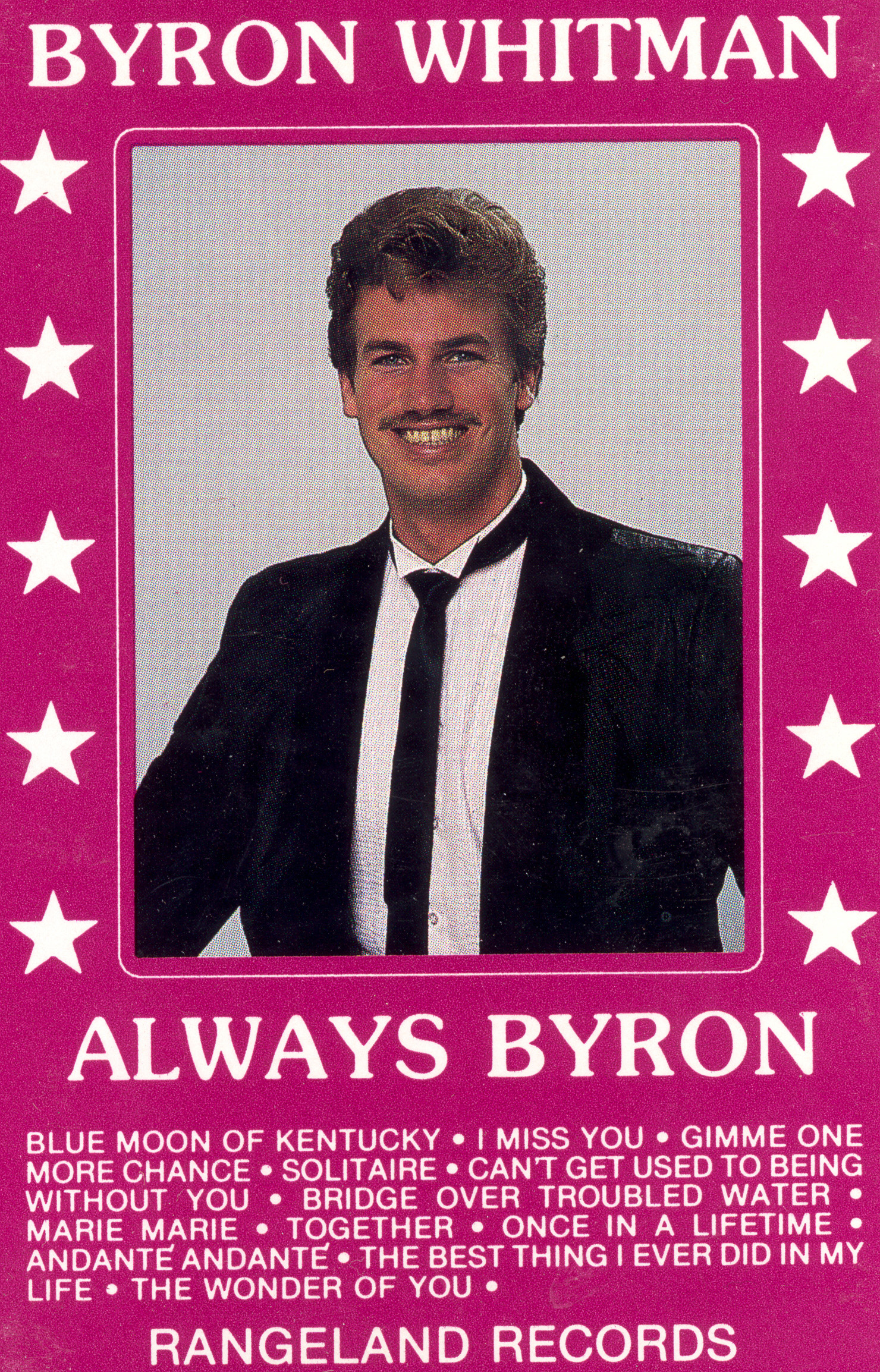 1. Blue Moon of Kentucky.
2. I Miss You.
3. Gimme One More Chance.
4. Solitaire.
5. Can't Get Used to Being Without You.
6. Bridge Over Troubled Water.
7. Marie, Marie.
8. Together.
9. Once in a Lifetime.
10. Andante, Andante.
11. The Best Thing I Ever Did in my Life.
12. The Wonder of You.
THE FOLLOWING IS A LIST OF SONGS RECORDED BY BYRON WHITMAN AS A DUET WITH HIS FATHER.
1. Before the Next Teardrop Falls.
2. Blue Eyes Crying in the Rain.
3. Carried on the Shoulders of the Shepherd.
4. Cowboy's Heaven.
5. Darling I love You.
6. Everybody Needs Someone To Care.
7. Four Walls.
8. Have Thine Own Way Lord.
9. I Need You.
10. I Will Love You Still.
11. If You Love Me.
12. I'll Fly Away.
13. The Mountain And The Valley.
14.Raindrops And Teardrops.
15. Ragtime Cowboy Joe.
16. Riding The Range For Jesus.
17. Silver Spurs.
18. Since You Went Away.
19. Sounds Of Lonesome.
20. Suppertime.
21. Warbash Waltz.
22. Where Eagles Can't Fly.